Dear Nigerians, #Change is more than a hashtag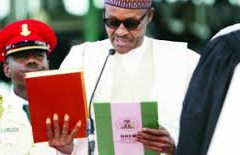 No, this isn't a 'Dear President-elect letter'; trust me I am as exhausted with them as the next man. I am not exhausted with the trekking (and cycling, and swimming, etc.) though, young men and women traversing between states on in various ways in honor of their preferred leader, whether outgoing president Goodluck Jonathan or incoming Muhammadu Buhari. I worry about them, exposing themselves to the elements, the very real security implications of walking our highways, the health implications ( I don't want to bet but I would be very surprised if any of the trekkers did any form of practice – in the way athletes do – before pounding the pavement). I wonder about hygiene (showers, potty time), I wonder about food and drink and their safety/security (I mentioned this again on purpose), but no, I'm not exhausted with it. I salute their courage in fact.
This is a 'Dear Nigerians' letter; one that we should all write ourselves, and our parents, and our children, and our friends and our enemies. It's a letter to the man selling beef in the market, a letter to the female executive, and a letter to the chairman of a conglomerate.
The resounding rhetoric is we (or the people who voted/rigged for either party) used the ballot to demand better than what we've got currently, to unseat an incumbent; that all will be well because we have a new president whose unique selling point is an abhorrence for corruption. He will make everything ok. Perfect. People are starting to warn others that "Buhari is coming, better behave", and the words 'Buhari' and 'change' are literally interchangeable. Sweet.
Who will this Messiah be working with however? The local government chairman who caters to his community in ABC state from the Federal Capital Territory, the man in charge of electricity for a region who owns controlling shares in a generator company; the woman who redirects money meant for youth corps members to her private account, the one who colludes with the bank to withhold teachers salaries for months on end so there is interest to share.
Our Mr. Incorruptible will be working alongside young people who think that a few important names in their phones or cheesy photos with high-profile people make them invincible, with people who think full spellings of the simplest words are too much work. He will work with law enforcement who are so gifted they can tell which drivers will give them 'something for the weekend' from a mile off, with religious leaders whose words of prophecy are dictated/inspired by the gift offered, with Nigerians who have been so deprived everyone sets out every morning determined to get one better over the next man.
Guess what? In four years we will be back here. In this place of frustration, of pain, hunger, of extreme queues for fuel and no electricity (at the time of writing this there hasn't been power in my area for SIX days), of dwindling oil prices
that determine the mood of our economy because fancy words and presentations and half term/end of year reports aside, we're living off sod else.
We will be even more broken, and disappointed, and braying for this Messiah's head, when we should be tightening the noose around ours for not being the citizens we elected in our President. We would be broken because the 'office of the citizen' we created/became aware of was more for the optics than an actual reorientation of our minds and consequently, our actions.re
This word 'change'?
Starts from you and I. As we begin this journey today as a country to where we want/dream/hope to be, it has to start, and end with us.
Aristotle in discussing the three types of people who exist said "the common run of people betray utter slavishness in their preference for a life suitable to cattle…" To put that very simply, if we do not elevate our existence and actions from pleasing self alone to honor derivative from the happiness/growth/development of others, Nigeria will fail. Buhari will try, but he will fail.
Final word? Congratulations, fellow citizens of Nigeria on our election into the house of change. Let's be guided accordingly, and God bless Nigeria.