Women's Careers and Islam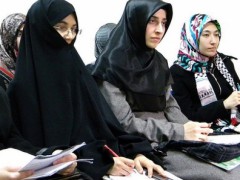 The idea of education of women in Islam is not new but every time it's presented it gives rise to a variety of new opinions and points of view. Religion and religious ideologies endorsed by religious clerics are two very different things that should always be seen in their proper perspective. In my view, the attachment of education to traditions and religion is wrong.
I believe that religion is the name of enlightenment and  should encourage anyone to strengthen their beliefs. In conservative societies men are strong and discourage women from coming forward and taking charge. The stereotypical man in conservative societies does not like or want a woman to challenge his authority. He does not want a woman who is more educated than him to enforce any kind of power or authority over him. He does not want to see women focused on finances and jobs that provide them with a sense of liberty and independence.
Yet, on the other hand the West – that seeming champion of women rights – is facing the decline of family life. Some view it as being all about sex and promiscuity and say that the West is obsesed with outward appearance and neglects the value of the security of that place called home. And the home is the place where the important questions of family and women's' roles comes into play: a woman is not just a projection screen but the foundation of a strong and stable family.
I would just like to give three examples of highly successful and career oriented women to prove my point and leave judgment to those of you wise enough to make it. It's always a choice between right and wrong and I do accept that there are exceptions in all societies in all cases.
Madeleine Albright was the first female Secretary of State for the United States and US ambassador to United Nations. But when she started her first foreign policy job at the State department she went through divorce from her up till then perfect husband. This ended her marriage of 25 years with three daughters. Her husband had gone for a younger woman and blamed her workaholic nature for that.
Margaret Thatcher the first female British prime minister maintained a very successful marriage and yet at the same time managed a remarkable political career of eleven and half years as a leader. The way she and her husband Denis Thatcher coped with the responsibilities of family and leadership was impressive.
Condoleezza Rice the first black female Secretary of State and National Security Advisor in the USA was single while achieving political success. Without the responsibilities of a family or pressure from a husband, she achieved all this. If she had thought to run as president of United States things would have been completely different: the issue of family would have come to fore and she would have failed miserably.
These three examples are given to illustrate my point that it is not religion that hinders women from education, but many other factors that heavily undermine their ambition to pursue higher education and careers. Women's resilience, ambitions and preferences make a lot of difference. And the choices made by their elders also shape their decisions.
Islam in its essence is a very open-minded religion and yet it keeps the ground realities in perspective. Islam has a benchmark teaching of "not putting extra strain on a soul that it can not bear". This is an amazing statement which embodies the whole dilemma we are facing today. In the examples given above I believe every one of these three women has had to decide how much of a burden she is ready to bear. While Maggie Thatcher was lucky to have a faithful husband and twins, Madeleine Albright had to cope with a not so faithful husband and raise three daughters. Both of these women decided to take on the burden they thought was necessary.
In Muslim societies sex before marriage and marriage itself are big issues. The question of the right husband at the right age is vital. This point is key to the woman's right to education – as education after marriage is a rare opportunity only open to the lucky few. The dilemma facing many parents is is it worth waiting for your daughter to finish her education and thus to pass the age for eligible suitors or should we draw a line and say that is how far and how far only we can go and then make up our minds to be ready to accept any good proposals. This does not mean demanding a full stop policy where after crossing an age limit the girl must sit and wait. I believe it is important to make up your mind and continue if need be while keeping an eye out for good proposals. There is nothing to lose in this scenario.
The important question in this debate is are we scared of being considered backward, conservative, orthodox or religious? What is the intention behind our interpretation of Islam's regarding women's education? If the reasons are other than the pursuit of education and enlightenment,  we should better start by finding the right education for ourselves first.
Tags: Education of women in Islam, International Woman's Day, Islam, Woman