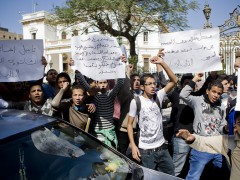 The education sector, deemed one of the most important pillars of development in post-Arab Spring Egypt, is struggling as we approach the second anniversary of the January 25 revolution. Educators in the public sector suffer from low wages and job insecurity, while increasing university tuition and declining standards enrage students in the private sector.
As the Egyptian summer slowly grows gentle, labor strikes have erupted across the country. Workers at the Cairo Transportation Authority staged a number of sit-ins in September, demanding higher salaries, and Egyptian doctors working in public hospitals started an open-ended strike since 1 October, calling for better working conditions and a boost to the healthcare budget to 15% instead of the current five percent.
Meanwhile, Egyptian teachers declared a strike in September, demanding higher wages and job security. At the other end of the spectrum, students in private universities such as the American University in Cairo and the British University in Cairo started separate strikes that protest the commercialization of education. Students at the governmental owned Cairo University also resorted to strikes to express discontent with its services. Despite monumental disparities in tuition fees between public and private universities, students are dissatisfied by the value of their respective learning experiences.
These strikes have occurred on the anniversary of nationwide teacher strikes last September, which were rejected by the anti-revolutionary Supreme Council of the Armed Forces who introduced a law criminalizing strikes and protests a month after Mubarak stepped down. Islamists, gaining ground since the supposed success of the revolution and then at the brink of assuming power over parliament, also expressed their anti-strike line in last year's teacher protests. The fickle Muslim Brotherhood, who has failed to deliver on a number of political promises, has stuck to its guns regarding their support, or lack thereof, of labor protests. Today, trade union rights continue to be violated.
The Egyptian labor movement accused Islamist president Mohamed Morsy, in a report released 8 October to coincide with Morsy's 100th day in office, of mimicking tactics implemented by the Mubarak regime in handling the plights of workers; sacking independent union members, and prosecuting strikers.
The labor rights movement in, Egypt has gained ground in recent years, and potently participated in the revolution of January 2011. When teachers in the public sector protest, they are echoing the struggle of governmentally employed workers over basic rights, including wage increases, job security, and the right to organize freely and carry out collective action.
But striking against ridiculously low wages or refusing to give in to staggeringly high tuition fees are both bound by the same paradigm; the right to education.
Money is a diva. It loves to steal the spotlight. But the issue here is much deeper than colored paper. One of the basic human rights is a level of education that stimulates the mind and prepares boys and girls for competition in the job market. This entails more than paying a teacher to force a child to learn. Training, education monitoring, and supplementary education should not be considered conditional.
In Egypt, despite constitutional provisions for education in the overhauled 1971 text, which alludes to education being a right, guaranteed by the state, its standards have systematically declined. The nine years of free education theoretically offered for citizens aged 6-15, are actually plagued with a vast array of overt costs in the form of supplies, uniforms, and private tutoring.
Education may not have been one of the demands chanted in Tahrir Square, but I assure you that that was a lapse in judgment- or maybe it did not rhyme with bread and freedom. Ask an Egyptian on the street, what this country needs to develop, and I guarantee you will hear: education; we can't do with out it.
In the September 2012 protests, educators held signs that read "The teacher's revolution." Many of them are juggling with two or more jobs to be able to make a living. In this video by the Egyptian media collective Mosireen, entitled the Right to Education, a teacher fervently remarks, "I can't feed my own children, and they expect me to teach the students?"
But their demands are not merely materialistic; overhauling the limiting structure of the education sector and enriching the quality of education is high up on their wish lists.
It is evident that sector-wide reforms are needed in order to render the right of education in Egypt more than a mere reverie.