Egypt: The plight of health institutions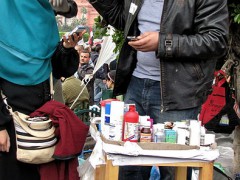 Out of the 91 million people who make up the total population of Egypt, only 83 million currently live in Egypt, according to the Egyptian Central Agency for Public Mobilization and Statistics. Among them, tens of thousands of medical students graduate every year from Egyptian universities to join the ranks of hundreds of thousands of doctors working for thousands of Egyptian public hospitals and medical centers.
The average monthly salary for those doctors working in state-owned hospitals is just a few hundred Egyptian pounds. So it's not surprising that a large percentage of the 8 million Egyptians living abroad are doctors whose salaries in Egypt  could not secure them even the basic living standard.
"There are more than 20 doctors in this hospital. Some of them have been working here for 25 years, and most of them are not considering going back home, ever." These are the words of Gouda Abdel Rahman, a cardiologist who has been working in Saudi Arabia for the past 5 years, for the reasons outlined above.
Apart from the very low income, another remarkable reason has led those doctors living abroad to take this crucial decision never to return – the notorious lack of facilities and tools for treating even the most ordinary injuries and diseases has made Egyptian doctors' work almost impossible. This takes us to another contentious point which is the level of services provided by Egypt's public medical institutions.
Personally, as a middle-class Egyptian citizen, I have never been treated in a public hospital and I have never even considered going to one. This is simply because public hospitals provide such poor services that I might well enter the hospital with one disease and leave it with three or four!
"We don't have enough beds for the average number of patients we admit every day. Even though this is a public hospital, patients usually pay for the drugs and medical supplies they require, as the quantities we have are never enough" said Abdel Tawab Abdel Rahman, a surgeon working at the Kasr Al-Aini state-owned hospital in Cairo.
The situation worsens when we move to other regions in Egypt, especially rural areas. State-owned hospitals in Egypt's poor rural villages lack almost everything needed for any patient to be treated.
Going back to the 83 million Egyptians, it should be mentioned that almost 40% of them live under the poverty line. This means they are in desperate need of a true healthcare program, as they cannot afford to pay for medical services at a private health institution. Middle class and upper class Egyptians are unlikely to head to a state-owned hospital for any sort of medical treatment, because they perceive the services provided there as "inhumane".
The poor structure of health-related institutions might seem nothing extraordinary if we relate Egypt's current economic status to its population. The combination of economic difficulties and a large population could even lead to a perception that an adequate healthcare umbrella covering all the citizens of Egypt is impossible.
However, the surprising – and scandalous! – thing is that despite the low income of doctors and the poor services received by patients, top officials at the Egyptian ministry of health receive millions of pounds monthly! According to Kamal Ouda, a venereologist working for the Kasr Al-Aini hospital, each of the advisors of the health minister receive one million pounds monthly. I wonder how much the minister's salary is!
One solution to this critical issue would be adopting a new restructuring plan under which a fair division of income approach is deployed where top officials receive less monthly wages giving doctors an adequate monthly wage. The key here is linking maximum wages to minimum wages in a ratio that should not, under any circumstances, exceed 1:8 (1 for employees with the lowest income, and 8 for those with the highest income).
Additionally, the plan should attract conditioned foreign investment to our health institutions that would exempt low-income citizens from paying for their treatment whereas citizens with middle and high incomes would pay a reasonable amount of money for receiving adequate treatment at state-owned hospitals. This would be a lot cheaper for them than receiving treatment in a private health institution.
Efficiency in managing state resources is the key for higher incomes for doctors, better services for citizens, and even more revenue for the state. Economic growth is attainable, once the desire for it becomes overwhelming!
Tags: economic crisis, egypt, health care, hospital, Income, patient, population, rural regions, Treatment, wages