Fiji and the rising dragon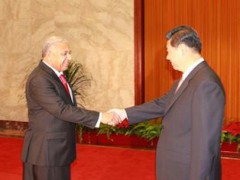 Australia and New Zealand's political moves to impose sanctions and cuts in foreign aid to Fiji, have resulted in the suspension of diplomatic relations. But China is stepping in to fill the gap. 
Ever since the military coup in 2006 in Fiji, relations between Australia, New Zealand and Fiji have taken a turn for the worse. Responding to the internal political situation in Fiji, Australia and New Zealand and a host of other nations have sought to injure Fiji's economy.
Major cuts to vital aid and a clutch of sanctions against Fiji have significantly impacted the Fijian economy. However, the hard-line policies adopted by Australia are only serving to strengthen Fijian resolve in a number of ways.
The Pacific Islands have given a warm reception to Fiji of late. Papua New Guinea recently declared its support for Fijian PM Bainimarama to the commonwealth and Vanuatu's deputy Edward Natapei who presented Fiji's Minister for Foreign Affairs Ratu Inoke Kubuabola  with a traditional apology for Vanuatu's anti-Fiji stance during 2010 by their previous government. Fiji has gained a lot of support in the Pacific since the 2006 coup. Australia, on the other hand, has begun losing credibility and many economic opportunities. As a report by the Australian Strategic Policy Institute outlines, 'the biggest losers are Australian-owned businesses in Fiji, notably the banks.' (source)
Invading the Islands? 
Secret plans by Australia to invade Fiji in 2006 came to light recently. Australian warships entered Fiji waters in the lead up to the    coup when an Australian black hawk helicopter crashed. Threats were allegedly made against the Fijian Prime Minister by the Australian Defence Minister at the time, Angus Houston. The Prime Minister states that:
"He woke me up early in the morning to tell me, don't ever do anything that will pit my troops against yours. It was a threat. He made a threat."
These actions not only angered the military, but turned many ordinary Fijian citizens against Australia. Furthermore, top secret documents revealed by WikiLeaks showed clearly that New Zealand was spying on Fiji.
Yet while Australia and New Zealand continue to flex their political muscles in the Pacific, Fiji is taking advantage of the economic opportunities emerging in the north and pursuing alternative economic partnerships to rebuild its economy.
Dancing with the Rising Dragon
China pledged a massive 167 million USD in grants and loans to help the country. China has also donated equipment for the police force, computers to the Fijian defence ministry, scholarships to Fijian students, media equipment and a sea wall. China has certainly boosted the Fijian economy but one wonders, is all this effort going to repay dividends for the people of Fiji?
This year, for instance, China took out a 20 percent stake in the Vatukoula goldmines. These mines are an important source of income for the people of Vatukoula and the surrounding areas. Recently, there have been a lot of disputes over the mine ranging from misunderstandings between the CEO and the owners to a lay-off of workers caused by production issues. Disputes over mines are not new in Fiji, in 2008 a Chinese company was awarded a contract for road works which took work away from Fijians. Local road contractors lost out on building roads such as The Nasarawaqa stretch in Bua which was awarded to the Chinese company. Many Chinese nationals were brought in by this company.
Another Chinese company has also been awarded a contract to mine bauxite in Bua, Vanua Levu. While this provides the residents of Bua with a temporary burst of income, it might not be so good for them in the long run. The mining process would devastate the surrounding area, and marine life and agriculture would also suffer greatly which will affect people in rural Fiji who rely on these industries.
There needs to be proper consultation with local communities and all deals must be carefully examined before Fiji signs on the dotted line. Economic partnerships with China may seem beneficial for Fiji but the country needs to pay close attention to the fine line separating political interests from economic interests.
While China denies any wish to set up a military base in Fiji, evidence elsewhere should set alarm bells ringing for the people of Fiji. China has set up military bases across the world and a Chinese military base in Fiji would certainly give them a lot of leverage in the Pacific. In 2010, Pacific media blog, Pacific Scoop,  urged Australia and New Zealand to mend relations with Fiji as soon as possible since "the four year attempt to isolate and penalise the government of Bainimarama has pushed Fiji more quickly and fully into Beijing's arms." (source)
As relations improve between Fiji and China, a new deal is currently being negotiated to remove visa restrictions for travel between Fiji and China. This will mean more Chinese citizens will enter Fiji and set up businesses which risk depriving already poverty-stricken locals of much needed income.
China's help has improved Fiji's economy and reduced the impact of sanctions by Australia and New Zealand. While China does provide a lot of aid and development, Fiji must be very cautious when dealing with China to ensure that the benefits really are long term. The Rising Dragon may be a very alluring partner to dance with but Fiji should watch out that its tender embrace doesn't turn into a stranglehold.
Tags: aid, Bauxite mining, Bua, China, Fiji, Goldmines, Military base, Vatukoula