First we take Manhattan …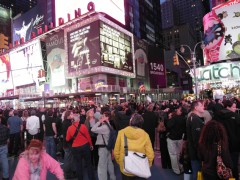 … Do you remember this song by Leonard Cohen (lyrics, video). And indeed New York could have some signalling effect for the rest of the world. Yesterday the rallies swept the globe: in 951 cities and 82 countries people voiced discontent with the economy.
Saturday, October 15, 2011: We started out in the morning at Liberty Park to join the march to Chase Bank. Chase received received $25 billion in bailout funds from the government to save the American economy by making loans more accessible, but it looks like that they'd rather used it to buy other banks. Here are a few impressions from the march, people chanting: "Banks got bailed out, we got sold out!"
Then we walked up (not with the crowd) to Washington Square Park. Completely different scenery. Several hundred college students who decried, among other things, student debt and unemployment. They joined up with the Occupy Wall Street people and build small "working groups" all over the park. In one group they were discussing the issue if it would make sense to occupy schools and universities and if so how. People with "occupation experience" from Liberty Square advised the others what to think about when occupying – from legal questions to convincing answers why they occupy. They were all very serious with the will to broaden the protest and make an impact. No illusions, very practical and realistic thinking.
We really liked the atmosphere in the park: sunny, only a few cops, music … nice gathering of mindlikes!
Here is an interview with a young man from upstate New York who came down for the day to "learn" and to show solidarity with the occupiers. He finished his studies and can't find a job – a situation where many young people are in … sounds like Arab Spring somehow.
Last stop of the day was Times Square … Holding signs reading "debt is slavery," "in a gentle way you can change the world," and "We are not anonymous," the protesters stopped traffic in busy Midtown Manhattan and provided a new spectacle for tourists and New Yorkers ready to go to their Saturnight theatre performance. It was one of the largest demonstrations yet from the Occupy Wall Street movement. The protesters in Times Square came from around the country and many were not part of the park encampment.
Tags: bloomberg, liberty square, occupywallstreet, ows. social injustice