Gender equality is crucial for sustained economic growth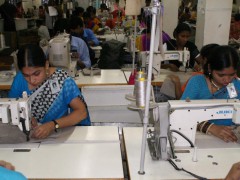 Bangladesh recently had a new statistic to flaunt- a 26% drop in poverty over the past decade. Yet as encouraging as this macro-economic achievement might be, there is still no reason to get too enthusiastic about it, given that deep seated inequality in Bangladeshi society continues to put the brakes on real social progress.
Let me try and explain why Bangladesh has to deal with this issue of gender inequality as a matter of priority. No, it is not to pacify women rights activists or give a sop to any morality police. It is purely for economic reasons: to sustain this drop in the poverty rate over the long term.
The World Bank report that revealed this prime statistic feat also emphasized some key policy implications like changes in labour income and demographics as contributing factors. But it also stated that Bangladesh still needs a multi-sectoral approach to sustain its growth. Besides improvements in the living conditions of the poor, more job creation in industry and services, and a growing number of women in the workforce  -which are all drivers of poverty reduction –  the participation rates of women in the workforce are very still low by international standards and still remain a huge challenge. Some of the factors influencing such low participation have to do with low rates of female education due to low end income, early marriage and early motherhood. And they all can be linked to the vexed issue of gender inequality.
Sustainable growth can be achieved by addressing gender inequality
Bangladesh falls among the lower 25% on the list of countries achieving gender equality. Addressing Bangladesh's gender issues and poverty reduction, which both go hand in hand, is crucial since a large section of the workforce is made up of women, even though the contribution they make to the economy largely goes unacknowledged. The country ranks 146 on the Gender Inequality Index (just ahead of Angola and Myanmar) – hardly a very healthy trend for a country that badly needs a multi-sectoral growth plan.
Despite making positive strides in improving health, education and livelihood for women, Bangladesh has not been able to reduce the gender gap. Women still face social problems like domestic violence, early marriage and motherhood, and gender discrimination. Apart from policy initiatives, some practical steps are needed. Reducing domestic violence and combating early marriage through better law enforcement and the creation of women-friendly workplaces that give them fair wages, decent working hours, and enable them to fulfill their dual responsibilities at home can help increase productivity. Monetary incentives for higher education for women and constructive education to combat social evils (often mistakenly associated with religious and cultural traditions) are some of the good practices that need to be introduced.
The recent Rana Plaza tragedy that took the lives over 1000 workers, mostly women, is a stark reminder of the ongoing negligence of safety norms and horrible working conditions for garment factory workers especially women. Development is not about creating infrastructure, it is about the value we put at human life, and this disaster has demonstrated how low a premium is put on the lives of these women. It was interesting to note that the owner Sohel Rana was a successful businessman with strong political links. Stories of the victims from this horrific man-made disaster like Hasina who lost use of her arm and Sharifa who paid with her life, are examples how women are the ultimate sufferers of the callousness of the capitalists and indifferent governance. It's sad to note that a disaster of this scale had to act as a wake-up call for making changes in working conditions of these women. And now the entire international community including businesses is scrambling to action. Yet, the compensations still elude these poor women, with some of the brands still hesitating to pay up. These measures should have already been in place with the garment industry expansion and the profits coming in from these units. The Government needs to step up and take stringent measures for provision of minimum wages, bring in regulations to safeguard women, and ensure speedy compensation for mishaps. Just as the most desirable way to attain sustainable growth for any country is making the best use of its female human capital,  simultaneously appropriate steps for the well being, protection and increased participation of Bangladeshi  women in the labour force is absolutely necessary.
Development policies have long claimed to put women at the centre-stage but what Bangladesh needs now is action on these points. Whether short term measures or specific policies aimed directly at women, the gains in GDP that Bangladesh has made, must be utilized in the most concerted manner, to close the gaps where the country is lagging behind and ensure that all the cogs in the machinery are well oiled. To achieve this, it is not necessary that we emulate the models of developed countries. We must devise our own culturally appropriate policies and encourage traditional practices and belief systems that are conducive to creating a more gender-sensitive Bangladesh.
Tags: bangladesh, economic inequalities, gender equality, poverty reduction, sustained growth, women labour force