Celebrating the Bolivians in São Paulo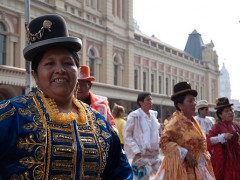 The following article deals with the topic "Designing Intelligent Labor Migration Policies," which will be discussed at the Global Economic Symposium in Rio this October. The author intends to enrich the discussion at the symposium with her personal stories and ideas.
A hundred years ago, if you went to São Paulo, you'd see thousands or even millions of Italians and Japanese, among other immigrants, working in industry and on coffee farms.
Today, if someone comes to São Paulo, it's easy to recognize some immigrant faces: brown skin, slanted eyes and a mix of Spanish, Quechua and Aymara. They are Bolivians, and they have become synonymous with immigrants and slave labor in the richest city of Latin America.
About three years ago, I was walking in the streets of São Paulo and noticed a man carrying a bike. On the bike, were a little boy and two backpacks. As I noticed the man was overloaded, I offered help. I took the child and he the bike, and we walked and talked for a while.
With my then-poor Spanish and his then-poor Portuguese, I could only understand a bit of what was going on. They were heading to Santa Casa, a great public hospital in São Paulo. His wife had given birth the previous day, and he was going to visit her.
I couldn't find out how long they had been in Brazil, their plans or dreams. But I remember that the man said he was from Potosí, a Bolivian city that Eduardo Galeano quotes a lot in his wonderful book "Open Veins of Latin America."
I also remember the smell of the sweat of the child sleeping in my arms. That child was going to meet his Brazilian sibling. However, he wasn't aware of his smell, his new country or his new family member. He was just a child, dreaming during a walk.
They went to the hospital, and I went on my way. From that day on, to me, Bolivians were not just statistics, numbers or "those people who sells clothes." They became a family wanting to have a good life.
Here, I could explain to you how the Bolivians have been treated like slaves in São Paulo (and other places), their difficulties and the prejudices they have to deal with, daily.
Instead, I want to celebrate their presence in my hometown city. It's relatively easy to relate sad news about immigrants, since a lot of bad things happen to them. In this post, I'll share with you one of the things that the Bolivian community brings to São Paulo: the Feira de Kantuta.
Every week, since 2002, thousands of Bolivians go to the Pari neighborhood to celebrate their culture: it just seems like you're in Bolivia.
With the booths selling traditional foods, ingredients and clothes and the traditional dances, the Kantuta fair is a great place to get in touch with Bolivia. Ninety percent of people who go there are Bolivians living in São Paulo (that includes most of the 250,000 Bolivians in the city).
Exploring the solutions proposed in the last Global Economic Symposium, I found this one: "educate both migrants and host populations to foster mutual understanding of their respective cultures and values, and thus ease adaptation and integration."
So, if you want my opinion on how to start doing that, I have one suggestion. We all know a lot about Italian and Japanese cultures, since they have been in Brazil for more than a hundred years now. Why not also welcome the other immigrants and get to know more about Bolivians, who are so close to us Brazilians?
Below is a gallery of photos I took  when I went to Bolivia Kantuta. Enjoy!