Dinner Talk: Religion, No Politics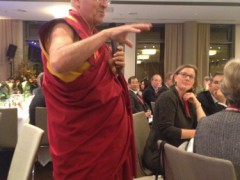 This post was produced for the Global Economic Symposium 2013. Read more at http://blog.global-economic-symposium.org/. 
"Love doubles every time you give it."
"What is not given is lost."
"Money doesn't buy happiness unless given to others."
These are the guidelines for a strong economy.
That, according to French biochemist turned Buddhist monk Matthieu Ricard.
He's no Alan Greenspan, but Ricard was one of the diverse voices the Global Economic Symposium brought together for economic commentary, though Ricard sticks out more than others with his bald head and bright red robes.
So far the conference has failed to birth many agreeable platitudes or solutions. The wide bandwidth of speakers and their over-educated opinions have fostered a wealth of engaging discussion and speeches. But agreement, let alone solutions we can implement, has been harder to find.
In my American impatience, hyperactive since setting foot in Europe, I was waiting for the niceties to die down and the disagreements to give way to answers.
At the GES kickoff, Dennis Snower, President of the Kiel Institute for the World Economy, asserted competition and compassion are incompatible. That set off a firestorm of debate, led by Deutsche Bank co-CEO Jürgen Fitschen, who argued passionately that competition is compassion.
The evening panel "Can Religion Help Solve Global Problems?" full of men and women who pray to different Gods, agreed compassion was the first and last step. I had finally found palatable agreement with the most diverse group present.
"What you are supposed to find in all religion is infinite love. At least minimal love, so we are not killing each other," Ricard said.
He and countless others explained that most elements of the current human tradition could be tied to economics. Violence, poverty, promotion of the environment, it is all interconnected in our current economic system. Economics is not a negative word but a tool that can be leveraged to alleviate some human suffering.
So how do we turn love of money into love of our neighbor? And isn't that a hippy delusion more than an economic possibility?
To build an economic system in which people can trust, it must be inherently human. There must be a human element.
"It's not Boy Scout nicey nice," Ricard said, peering over his silver monk frames in between checking texts on his iPhone.
Ricard described self-interest as short-sighted. Of course, he may take the example to the extreme relative to modern norms. Ricard defined the goal of amassing money as a "waste of life," though his path to happiness is to give "one hundred percent. My balance sheet is clear."
The business leaders present talked about "culture resets" after the recession and their desire to genuinely become organizations with a human face.
Ricard touched on these same topics, citing Dannon's charitable efforts as a corporation and companies that focus, in addition to profit, on making a difference through their products or existence.
The unpredictability of the markets and unwieldy, faceless corporations lack a basic human element that could define more trusting, cooperative, and collaborative economic growth.
Dinner moderator Klaus Schäfer, a Lutheran pastor in Germany, asserted, "Trust is not faith; it's a decision."
It's time that economic players at every level choose to trust one another by working purposefully with others in mind.
That's what led a Buddhist monk wearing crimson robes and très chic French socks with sneakers to tell us all that compassion is the ultimate economic generator.