Does Uganda's Government Care About Climate Change?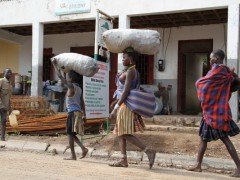 This post was produced for the Global Economic Symposium 2013 to accompany a session on "Cooperation Game – Preventing a Climate Catastrophe." Read more at http://blog.global-economic-symposium.org.
The warming earth poses numerous challenges for Uganda. In some parts of the East African nation, crops have dried up, animals are under stress from severe drought, and farmers are cultivating wetlands and river banks in search of arable land. Karamoja, a remote land in northeastern Uganda, is experiencing food shortages because of drought. A lengthy drought in 2011 helped drive the country's headline inflation rate to thirty percent. All of this raises the question: does Uganda's government care about climate change? The answer is yes, the government is taking action, but much more needs to be done.
First, Uganda recognizes that climate change is a serious problem for its environment and population. The country is a member of the United Nations Framework on Climate Change and other international bodies that work to combat climate change. As such, Uganda is building institutions and formulating laws and policies to address the effects of climate change.
Second, Uganda has a full-fledged ministry in charge of water and environment to monitor activities related to the country's bodies of water, forests, wetlands, swamps, and mountains, all of which play a crucial role in stabilizing the ecosystem. That ministry recently established a Climate Change Unit. The unit will notify farmers of weather projections to aid them in timing their crops, provide a platform for dialogue on climate risk management, and increase awareness about climate change.
Moreover, in 2008, a parliamentary forum on climate change was formed to respond to the environmental, social, and economic issues presented by the rising global temperatures attributed to climate change. By all appearances, the forum recognizes the need for immediate action. The formation of the forum is a commendable move because legislators can speak for their constituents and shape the necessary legislation related to climate change mitigation.
Third, Uganda, like other East African countries, is implementing a multi-tiered legal and policy framework on climate change. The East African Community Legislative Assembly recently enacted a policy on food security and climate change to guide member states in mitigation and adaptation.
In addition, Uganda is developing national climate change policy that will ensure a harmonized and coordinated approach toward a climate-resilient and sustainable low-carbon development path. According to Paul Isabirye, the head of the Climate Change Unit, the policy is necessary because many people are trying to do something in response to climate change but not in a coordinated way.
There has been delay in formulating the national policy, however. As of now, consultative discussions are ongoing, and the outcome will be shared by the ministry officials before it is adopted. If implemented, the policy would represent a step forward in fighting climate change in the country.
Despite expenditures on climate change-related activities rising from UGX41.5 billion to UGX71.8 billion between fiscal years 2008-09 and 2011-12, activists still contend such initiatives are underfunded. In the 2013-14 budget, the government has allocated only UGX13 billion to weather, climate, and climate change activities. And in the future, those budget allocations are set to decline to UGX8.39 billion in 2014-15 and UGX6.84 billion in 2015-16. What is more, a substantial amount of these allocations is used to prepare aviation forecasts and documents for commercial air traffic. Less is used for climate change sensitization programs. Activists say the budget allocation for climate change mitigation is a drop in the bucket and are calling for increased funding of at least UGX664 billion annually. The government would be wise to heed their call.