Education Inequality: Why Those Who Are Born Poor Die Poor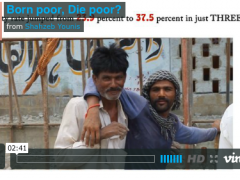 This post was produced for the Global Economic Symposium 2013 to accompany a session on "Trade, Poverty, and Inequality." Read more at http://blog.global-economic-symposium.org/.
In my dictionary, poverty and inequality go side by side. Poverty is defined as the state or condition of having little or no money, goods, or means of support. Educational inequality makes poverty a lifetime condition–especially in my part of the world, South Asia and the Middle East.
I was born into a middle-class family and was educated at fairly nice schools; thus today, I have realized a better lifestyle by virtue of great learning opportunities. However, this is not true for thirty million–mainly poor–Pakistani students who do not even have access to a classroom. This is the reason for the learning divide that exists in Pakistan and many other Middle Eastern countries today: poor people lack opportunities to learn and grow intellectually because they cannot afford education. As a result, the poor do not get decent jobs, and hence, they keep on doing menial, low-wage work for the rest of their lives.
I attempt to explain why those who are born poor usually die poor through a video animation linked below. The context is mainly Pakistani, but the ideas relate to most of the Middle East and South Asia.