GES 2013: My Solutions for the New Bottom Billion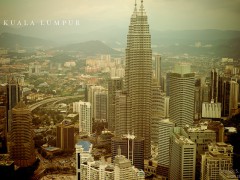 The Global Economic Symposium 2013 is over. Everyone has gone home whether to neighboring countries in Europe or faraway lands in the Americas or Asia. Either way the Symposium has ended, leaving us with tonnes of ideas, business cards and pictures.
Having one of the worst cases of flue at one of the most important international conferences made me a little discontent with myself.  In those two days world leaders from different industries and backgrounds arrived in Kiel to discuss world challenges and find common solutions. The sheer diversity of the topic ensured that the most pressing problems were all on the agenda. On a personal note I found it quite an honor to sit close to people for whom I have the greatest respect, people like Her Excellency Roza Otunbayeva, the former President of Kyrgistan and Matthieu Ricard, the French Buddhist monk also known as the 'happiest man in the world'. I'm quite a lucky girl.
From cozy Kiel to vibrant Kulua Lumpur. Photo on the left by Shahzeb Younas and photo on the right by Terence S. Jones (Flickr  CC BY 2.0)
At the same time I am thinking about what will happen to the solutions that we debated so passionately. Will they remain on paper? Or will somebody from Kiel carry them out into the world? Will our ideas become reality? They say that ideas are worthless unless implemented, and I agree. The Symposium's Ideas Fair, which brought together over a dozen project ideas in areas like entrepreneurship, private-public partnerships and public financing, was one attempt to turn some of these ideas into reality.  I am looking forward to see whether this succeeds.
What will happen to the New Bottom Billion, an issue I have covered in the last couple of months? Regretfully only one project had an idea about how the poor could contribute to capitalism and this was from John Hope Bryant. And I think that should be expected. Given what was said in the Development Policies for the New Bottom Billion session, I have realized that no one single project or solution can be an answer, although it definitely can be a start. The New Bottom Billion challenge is complex, multilayered and interdisciplinary, and so to address it effectively, action needs to be taken simultaneously by a number of actors on a number of fronts.
Although I'm not a director of an international organization or the CEO of some multinational, I have thought long and hard about what could make a positive contribution to lifting the global poor out of poverty. These are my four recommendations:
bring some of the New Bottom Billion to international conferences like the GES. What I found disturbing and somewhat dissappointing was that while we have redefined what success is, the composition of the actual symposium remained the same – top-notch leaders, managers, directors of world organizations. Where is the average Lin who has escaped the poverty trap thanks to Chinese industrialization? Or the average Singh who thanks to international funding has opened a shop and now employs a number of people and can afford food for herself and her family? The Global Economic Symposium 2014 will take place in Malaysia and since it is organized by a country of the South, I hope that the organizers will invite and sponsor successful ex-New Bottom Billion representatives who will share with the assembled 'world leaders' what has really worked for them. (And thus translate our debate on Redefining Success into practice)
provide education funding for the global poor to make them aware of what kind of choices they have
Hsiao-Hung Nancy Chen, Deputy Minister of the Council for Economic Planning and Development (Taiwan) shone much light on what kind of education can empower people – an education, she insisted, which leads to self-reliance and self-awareness. Although most people associate more advanced education with higher productivity, it certainly does lead to better awareness of the choices human beings face. Sahol Hamid Abu Bakar, President and Vice Chancellor of the Universiti Teknologi MARA (Malaysia), talked about how the bottom billion youth may be at a disadvantage when it comes to getting a higher education because of their poorer exam results. He encourages top universities to fund places for students from disadvantaged backgrounds by admitting good, but not necessarily top-marks, students and giving them an environment conducive to learning.
industrialization policies like those used to advance the economies and societies of Taiwan and South Korea
Jean-Pierre Lehmann, emeritius professor at the International Institute for Management Development, pointed out that there are only two countries in the world which have successfully transited from low to high income economies in a relatively short time – Taiwan and South Korea. They managed this, he explained,  because they relied on policies of strategic industrialization based on their own technocratic institutions and think tanks, and he encouraged us to study positive examples of countries which have escaped the middle-income trap.
more inclusive trade through linkage  of SMEs to big exporters – a proposal put forward by challenger Samantha Morshed, Founder and CEO of Hathay Bunanok, Bangladesh.
I really liked the idea of linking the local and national small and medium-sized businesses of the global South to the big exporters of the South.
With that, I won't tax your patience any longer but leave you with my thanks for following the official GES bloggers postings. Hopefully …  see you all next year in Malaysia!