Lessons Learned from Australia's Entrepreneurial Prowess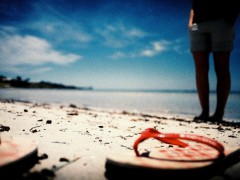 This post was produced for the Global Economic Symposium 2013 to accompany a session on "Innovation, Dynamism, and Entrepreneurship." Read more at http://blog.global-economic-symposium.org/.
What are the ingredients required for a sustainably innovative, entrepreneurial, and growth-oriented environment?
Australia was recently named among the top quartile of G20 countries in which to be an entrepreneur. There were five criteria: access to funding, the country's "entrepreneurial culture," the tax and regulatory framework, access to education and training, and the amount of collaboration and support between the private and public sectors. Australia placed fifth, behind the United States, South Korea, Canada, and Japan.
These benchmarks reflect the factors required to engender strong entrepreneurial capacity within a nation and also point to how companies can turn the entrepreneurial capital within their ranks into profitable innovation.
What can we learn from Australia's high ranking? How can companies make the most of the current environment and foster an innovative, entrepreneurial culture? Must governments take the lead in creating such a culture, or can companies create it themselves?
The Importance of Funding
The EY G20 entrepreneurship barometer cites funding as the most important factor in contributing to innovation.
Of the survey respondents, half stated improved access to funding is the "most effective way to accelerate entrepreneurship."
Funding availability is not limited to government grants but includes a mix of private, public, and crowd-funded sources. However, given that technology and innovation hubs have sprung up around the country and the world, simply providing access to funding isn't the answer to engendering an entrepreneurial culture. "Soft" support, such as mentoring, is imperative in turning ideas and concepts into tangible realities.
The Support Network of Coaching and Mentoring
In 2012, BRW/Inventium designated ClickView Australia's most innovative company, followed by the Commonwealth Bank and Blue Chilli.
Interestingly, these companies show that innovation doesn't simply percolate from the bottom but requires support and structure from the top. Inventium founder Amantha Imber related this sentiment by emphasizing the role the leadership played within these companies to engender the correct culture. "Their leaders took it seriously; they didn't just pay lip service to the concept of innovation. They were investing resources in building the right culture," she stated.
The resources of these companies varied widely, but in each case, their innovative cultures involved something more than just funding. Holding weekly "ideas" meetings and building innovation into performance indicators made the innovative process intrinsic to the fabric of the companies.
The Spaces
The third criteria addressed access to education and training. Given the Australian government's support of a number of successful innovation hubs around the nation, this is clearly one of the country's strengths.
The Commonwealth Scientific and Industrial Research Organisation (CSIRO), technology parks, and Cooperative Research Centres (CRCs) are stalwart organizations backed up by spaces run by young entrepreneurs, such as The Hub in Sydney, Melbourne, and Adelaide. It is a combination of these types of spaces and the various other factors that enable an individual to bring an idea into reality.
Allowing for Failure
The importance of failure should not be underestimated, says a report by Simon Jones of Media Lab Europe. This sentiment has been echoed by entrepreneurs and innovators worldwide, including Robert Kotick from Activiation Blizzard, who said, "The most important thing we do to encourage innovation is give people the freedom to fail."
Given the high-risk nature of innovation, the stigma associated with failure in our politics, schools, and sports is harmful to any sort of dynamic development.
Failure is to be expected when dealing with the volatility and uncertainty that comes with innovative processes.  Allowing for failure means not punishing a failed process by removing funding or immediately dismissing ideas. Instead, companies must ensure the opportunity to learn is capitalized on.
What Is Needed Is Foresight 
Dr. Peter Hayward of Swinburne University offers two kinds of limits that bind our growth. First, there are certain physical limits, as defined by The Limits To Growth, a seminal text published over forty years ago, which remains relevant to this day. Second, there are our mental or psychological limits, which are limits of our thoughts and imagination. Coming to terms with these limits, he says, is an essential part of strategic foresight and an indication of "the new normal."
If we truly want to capitalize on the power of entrepreneurship and innovation, both types of limits need to be dealt with. In a way, the physical limits enable us to find new and more sustainable innovative solutions so that we are able to live in a functioning and healthy society. The mental limits, however, require a shift in culture. Whether in our companies, government, or even our educational system, we must strive not to be shackled by our mental expectations. Let's teach our youth that entrepreneurship is a viable option as a career choice and a failed project doesn't mean a failed person.
When the mental limits are overcome and meet the challenge set by the physical limits, magic truly does happen.