New Dimensions of Trade Barriers: "Let's Bury Doha!"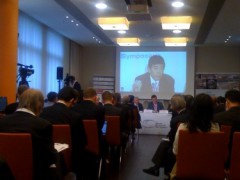 Logistics, mostly international transportation, accounts for 20 per cent of consumer good prices. In addition, a large share of international trade takes place by air. The EU is trying right now to include aviation in its emissions trading scheme.  The overall costs of this for the aviation sector will be EUR 3.5 billion (Source: PWC). "This is tantamount to a new barrier in world trade." This opinion was shared by Karl Ulrich Garnadt, CEO and Chairman of Lufthansa Cargo. Who else than a high-level industry representative could have come up with such a view? Unfortunately, none of the speakers present at the "New Dimensions of Trade Barriers" Roundtable of the Global Economic Symposium 2011 took a critical look at this idea. An emissions trading scheme is and will continue to be the best market-based, business-friendly solution for reducing carbon emissions and for mitigating climate change. Businesses still face the adaptive leadership challenge of making their operations more efficient, given the constraint of higher energy prices and scarce resources. In this view, it is unfortunate that including aviation in the ETS scheme is still seen as trade barrier.
Are governments more visionary in dismantling trade barriers? Seemingly not. Empirical data show that trade protectionism amounts to nearly 1% of GDP/ world output, or $475 billion per annum (Source: OECD). As panelists in the roundtable showed, in addition to conventional hidden and unhidden trade barriers, governments have unfortunately succeeded in enacting many more distortions via excessive, fragmented regulation. There is no standardized data exchange in international transportation, which makes logistics a disabler of international trade rather than an enabler. Product descriptions are not standardized and e-commerce traders use multiple catalogues. Each country reacts differently to these descriptions, so items are oftentimes rejected and delivered back to the sender. The consumer does not understand – and it's not his/ her job to understand, may I add! – all the technical barriers and overlapping regulations that world trade is facing. In an age where international trade is increasingly business to consumer instead of business to business, lack of simplified, standardized international trade regulation will constitute a tremendous future challenge. In addition to regulatory red tape, there are inherent barriers to world trade, which governments haven't even though of addressing. Econometric research shows Japanese companies get fewer patents approved with the European Patent Office simply because of translation and legal interpretation barriers! In addition, less than 20 per cent of the patents approved by the office are licensed out, because the patent – licensing market is not working properly (Source: Statements by Nikolaus Thumm, Chief Economist EPO).
Professor Renato Flores, from the Getulio Vargas Foundation (co-organizer of next year's GES), put it bluntly: "the era of global free trade agreements is over". Indeed, given the countless lesser known indirect barriers to trade that became apparent during today's GES2011 roundtable, a piecemeal approach to removing trade barriers might make more sense. Till then, trade facilitation as the low-hanging fruit for pumping some steam into global economy remains wishful thinking…