Redefine the economy, yes, but who's buying?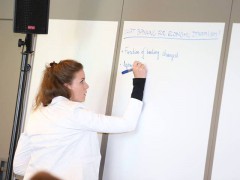 Who changes the world? Politicians, civil society organizations, the government, businesses, people, ideas, or inventions? I suppose we will never agree on this, but apparently economists think that they can and they have good reasons to do so.
The recent Global Economic Symposium, held in Kiel, Germany, took "Redefining Success" as its general theme, a concept that was present in varying degrees throughout all of the sessions and panels, and above all in the event's opening and closing plenaries.
The intent was to discuss the measure of success that economic systems currently have in terms of material wealth, since things like GDP have become an end in themselves, as we have forgotten that they are only ways to arrive at what should be the final objective — the welfare of human beings.
The discussion was structured around four major themes: Achieving inclusive and sustainable growth, fiscal and financial sustainability, poverty amidst abundance, and new opportunities for global cooperation, which in turn were broken down into various sub-topics.
Detailing the different tendencies of the conversations goes beyond the scope of this blog, but among the various ideas that caught my attention I vividly remember, for instance, the statement that the current crisis is more a crisis of values than anything else, and that the problem is not money per se, but the love of money. Great emphasis was also placed on the notion that exploiting natural resources puts the world we leaving our children and grandchildren in jeopardy.
Even so, the question still remains of how the proposals made at conference will arrive in the hands of the people who actually make economic decisions, wherever they may be. Will it be possible to achieve this? Among the attendees there were directors of civil society organizations, think tanks, and institutes, as well as several bankers and government officials, but we know that it is politicians who are the ones that make the decisions, and while they sometimes listen to advice from their advisors, sometimes they do not.
So my main anxiety here is whether these ideas will really reach the ears of those for whom they were intended, and even if they did, would world leaders pay any attention to them? Unless governing institutions like the World Bank, the IMF and others take them as their own or at least endorse them as valid alternatives, very little can be done.
On the other hand, there was little room at the GES for non-economic concepts of human well being, for the role played by experience and traditions in other cultures' ideas of well being, or even for unorthodox ways of thinking.
Yet despite such reservations, I still found it interesting and highly commendable that there are indeed some economists who feel the need to review the very tenets of their profession and also feel the need to share this and bring it into the global conversation. In fact, something on these very lines needs to be done in Latin America where even raising these types of ideas tends to be frowned on as anti-establishment.