Religious Leaders Gather at the GES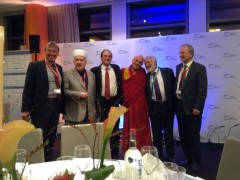 This post was produced for the Global Economic Symposium 2013 to accompany a session on "Can Religion Help Solve Global Problems?" Read more at http://blog.global-economic-symposium.org.
"How come we're not simply applying the golden rule? It's so simple: don't do to others what you don't want them to do to you." These words of wisdom were spoken by Matthieu Ricard during the Global Economic Symposium 2013 held in Kiel, Germany.
The panel "Can Religion Help In Solving Global Problems?" had a different format as speakers and audience were invited to discuss topics during dinner which was an incentive to really create a debate across the tables.
Besides the French Buddhist, the list of speakers included Martin Bröckelmann-Simon, Mustafa Cerić, Awaham Soetendorp, and Klaus Schäfer, representing Catholicism, Islam, Judaism and Lutheranism, respectively.
From right to left: Martin Bröckelmann-Simon, Mustafa Cerić, Dennis J. Snower (Director of the GES), Matthieu Ricard, Awaham Soetendorp, and Klaus Schäfer. Photo taken by the author.
Instead of addressing specific topics, the speakers, in general, talked about the importance of religion in the world. Martin Simon, for instance, said: "Instead of asking how religion can help solve global problems, we should be asking whether global problems can be solved at all without religion."
Besides the lack of any real debate about specific global problems and how religions could help address them, I also found that another down point was the lack of diversity: not only wasn't there any woman as a speaker, but two of the five speakers were Christians.
That means that their perspective didn't include such issues as gender inequality in churches, violence against women, prejudice against other religions (for instance, religions with African origins like Candomblé and Umbanda prejudice in Brazil), xenophobia or genocide. In my opinion, the speakers – and not only the Christians – could easily have addressed these issues, since at some point each religion represented on the panel has suffered prejudice or persecution. How did they overcome this? How did the Jews deal  with the horrors of the past? How is Islam now combating prejudice?
Faith, Religion and Morality
However, the lack of debate on such issues doesn't mean that the panel wasn't good. Quite the opposite: the religious leaders shared their concerns on how religions are viewed today, and how society doesn't know how to differentiate between important values. Mustafa Ceric summed things up in in simple words: Faith is a gift from God; Religion is when a person belongs to a community; and Morality is knowing the difference between good and evil. In other words, a person can be religious without having a faith, and can be moral without having a a religion.
But for me, the words of the Lutheran leader Klaus Schäfer were the high point of the evening. He shared with us some of the guiding principles of the mission of the Lutheran church which are principles to which any religion or institution in the world could also subscribe:
Be agents of transformation: change what can be changed in your community, act on what must be transformed;
Be agents of reconciliation: take peace as a main goal, and create a atmosphere of forgiveness wherever you are;
Be agents of empowerment: each person has the power and the right to make changes, since all of us were made in the image of God.
After the speeches, the audience had a chance to share their ideas and opinions. Peter Esele from Nigeria talked about the violence perpetuated in his country in the name of God, and how big organized religions are usurping  local religions. "Religions are being globalized", he memorably said.
 Peter Esele, from Nigeria, sharing his point of view. Photo taken by the author.
So, in general, even though the panel was not what I expected, it still had some pretty important things to say. All panelists agreed that religion plays a major role in society, and that bringing people from different religious backgrounds together is an important thing to do.  Staging the session at the dinner table also created a much more relaxed informal atmosphere that made such important figures seem much less intimidating – I myself was sitting right next to Mustafa Cerić no less!
The next step should be taking a more specific approach on how religion can help solve global problems, and how religious leaders, can influence their faithful to make the needed changes in the name of the common good.