Renewable Energy Helps Prevent Climate Catastrophe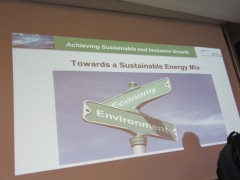 This post was produced for the Global Economic Symposium 2013. Read more at http://blog.global-economic-symposium.org/.
An exchange of views on how to achieve sustainable growth through the use of renewable energy is underway in a conference room at Atlantic Hotel in Kiel, Germany. The audience is comprised of people young and old, academics, students, experts, and journalists. It is a very lively audience chatting the way forward on the future of energy use.
Before the beginning of the session, I asked Yvo de Boer, the KPMG advisor on climate change and ex-executive secretary of the UN Framework on Climate Change, what developing countries can do to avoid the effects of climate change. He said Uganda can decentralize the energy sector and make use of renewable energy. He argues that because it would be more costly to provide hydroelectricity to all Ugandans, there is a need to take advantage of solar, wind, and biogas energy to save the environment from destruction by charcoal and the felling of trees for firewood.
In Uganda, ninety percent of the people use wood as a source of energy for cooking. Eight percent of Ugandans have access to electricity, which is available mostly in urban areas. This implies that the majority of Ugandans use charcoal, which is dirty and harmful to health and the environment. At the same time, many of those connected to the national electricity grid use it for basics like lighting, ironing clothes, and playing music rather than cooking, which is fairly expensive for most people.
In the developed world, the struggle is in cutting back on burning fossil fuels to reduce carbon emissions. It is being suggested that this problem should be addressed by adopting clean and renewable energy to reduce greenhouse gases and emissions. The best and cheaper alternative is renewable energy. Panelists from leading agencies dealing with climate change said we need to move fast. The latest report by the UN Panel on Climate Change suggests swift action to avoid a climate catastrophe.
There is potential for solar energy, wind energy, and biogas from animal waste. The time is now for countries to decentralize energy generation if they haven't done it yet and open up for renewable energy technology. For renewable energy to sustainably fight climate change, proponents need to look for long-term investors, markets, and alliances and use the bottom-up approach to encourage people to adapt to renewable energy.
We need to increase flexibility in energy consumption behavior. It is a given that electricity is driving our lifestyles; we need electricity to operate our computers, charge our mobile phones, light our homes, and supply microphones in conference halls. Renewable energy technology has the potential to prevent climate catastrophe and help in achieving sustainable growth. We need to act on this as individuals instead of waiting for politicians, who usually act based on their interest in winning elections (so they won't act).
The real agenda is reducing greenhouse gas emissions through the use of renewable energy. We need to think of alternative energy sources; for example, in the United States, natural gas can play a major role in fighting climate change. Fighting climate change cannot be done locally; it is a global game.
The Intergovernmental Panel on Climate Change report is timely. It is high time we began talking to banks, insurance companies, and other long-term investors to encourage them to invest in renewable energy instead of leaving the sector to small private players. Give more voice to civil society so they can spread the campaign against climate change.
There is also the need to come up with a secure long-term investment roadmap on the future of energy, point to opportunities for low-carbon economy, and decarbonize the energy sector. These steps will lead to sustainable growth and prevent climate change. The world is a sleeping giant in terms of energy efficiency, for there's an enormous mass of renewable energy that's yet to be fully exploited. When this energy is exploited in a sustainable manner, the sleeping giant will wake up.
Tags: CLIMATE CHANGE, Global Economic Symposium, renewable energy, Renewables