Rio Favela Pacification: The Researcher's Perspective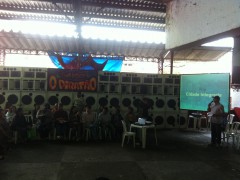 The following article deals with the topic "Favelas – a Global Challenge and Opportunity" which will be discussed at the Global Economic Symposium in Rio this October. The author intends to enrich the discussion at the symposium with his personal stories and ideas.
Favelas have long proved a source of interest for social scientists, especially from abroad. In the 1960s, American scholars Anthony Leeds and Janice Perlman conducted path-breaking, eye-opening studies in Rio's favelas at a time when Brazilian society preferred to ignore their very existence.  Leeds took an anthropologist's approach to the 300+ favelas he surveyed, drawing on his experience in rural Brazil, the source of most of the migrants who led to favela population growth during the post-war demographic rush to Brazil's emerging metropolises. Perlman conducted extensive field work in three favelas by surveying hundreds of residents to gather life histories that she compiled into her seminal work, The Myth of Marginality. Perlman's 2010 follow-up, Favela: Four Decades of Living on the Edge, turned her 1960s research into a longitudinal study, where she tracked down the children and grandchildren of her original interviewees to see how favela residents' life prospects change over generations.
While the old guard of favela researchers has the benefit of a career of hindsight, contemporary favela research is booming in Rio especially, as the police pacification program (UPP) has increased accessibility for researchers and journalists.  What follows is an annotated round-up of recent favela research in English for those looking to dive deeper into the data and analysis of life in Rio's squatter communities.
"Crime, House Prices, and Inequality: The Effect of UPPs in Rio": Using data from a commercial real estate listings service, two researchers at the New York Federal Reserve have calculated the impact of the UPP on real estate prices in nearby formal neighborhoods.  While plenty of anecdotal evidence suggests that choice neighborhoods like Ipanema and Copacabana have experienced property value booms in part because of the pacification of nearby favelas, this study proves it through the actual sales listings and transactions.
"Peace Through the Metaphor of War: From Police Pacification to Governance Transformation in Rio de Janeiro": Julia Tierney, a recent MIT Department of Urban Studies and Planning graduate won most outstanding thesis in 2012 for her account of how police pacification is undergoing the difficult task of applying local governance to communities that have been largely outside of state control.  Through an internship with UPP Social, the social service arm of pacification, Tierney conducted firsthand interviews with UPP commanders and community residents.
Maurício Moura's study of UPP impacts, the first to hit the research scene late last year, was commissioned to help policymakers determine the "what next" as they grapple with the major social issues facing favelas that now expect community investment and support in addition to the presence of police officers.  Covering all of the UPP favelas (at the time of research, a few more have been pacified since then), Moura's team gathered the first comprehensive portrait of the socio-economic condition of these favelas on the cusp of change.