Saudi Arabia moves towards solar and nuclear energy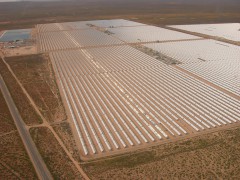 The following article deals with the topic "Reassessing Renewable Energies" which will be discussed at the Global Economic Symposium in Rio this October. The author intends to enrich the discussion at the symposium with his personal stories and ideas.
It is perhaps ironic that while developed nations such as Germany and Japan are moving away from nuclear energy, especially after the tsunami and earthquake last year that caused the Fukushima leaking of radioactive material into the atmosphere, that oil-rich developing countries such as Saudi Arabia and the United Arab Emirates are embarking on the nuclear energy route.
Stuck somewhere in the middle are developing countries such as Brazil, which has had a nuclear power program since the 1950s, and has two seaside functioning nuclear reactors in Angra dos Reis in the state of Rio de Janeiro. The first reactor, Angra I, was built by Westinghouse with US technology and came online in 1982 with 657MW. In 2000, the second reactor, Angra II came online, with 1350MW. The third reactor, Angra III, is due to come online at the end of 2015, and the local press has reported that its operators are going to have to pay R$40 million (around US$20 million) in environmental impact compensation to the state. According to Jornal Nacional, four more nuclear reactors are slated to be built in the northeast of Brazil.
But the Gulf countries, unlike Brazil, are devoid of any rivers, and are very hot in the summer, sometimes reaching temperatures of 50 degrees Celsius and higher. This has led to a huge demand for electricity to run air-conditioners and also to power the many water desalination plants that line the Red Sea and the Persian Gulf. Saudi demand for electricity is growing at 8 percent a year, and it is using ever growing portions of its crude oil production to fuel power plants, instead of exporting all of it where it would earn more money on the international market.
The UAE were the first to announce the construction of a nuclear power plant after they signed agreements in 2009 with France, the United States and South Korea. Saudi Arabia followed, signing agreements with Argentina, China, France, and South Korea. They are planning to invest up to $100 billion in nuclear energy. But the Saudis are not pursuing a nuclear energy policy only, announcing this past May that they were ready to invest $109 billion in a solar energy production plan. The kingdom plans to have 41,000 megawatts of solar capacity within 20 years, according to the King Abdullah City for Atomic and Renewable Energy (Ka-Care). According to Bloomberg, this is a strategy to reduce domestic oil consumption, possibly saving the equivalent of 523,000 barrels of oil a day over the next 20 years.
Oddly enough, it has been European countries that have been the leaders in solar energy, because of the subsidies that the European nations gave to solar energy, and the efficiency shown by Germany in solar energy production. The subsidies are being cut back now and solar energy panel manufacturers are looking at Saudi Arabia as a possible new market for them. But the Saudi authorities want foreign investors in solar energy to set up manufacturing plants in the country, and to transfer technology, in order to build a long-term, sustainable renewable energy business in the country that employs Saudis.
The Saudis are planning to produce solar energy through two methods: Concentrated solar power (CSP) and photovoltaic power (PV). Ka-Care hopes to produce 25GW of solar power using CSP, even though it is relatively more expensive than PV energy. "CSP, unlike PV, can store solar energy for several hours, which is a big advantage in a country where air conditioning demand remains high in summer long after the sun goes down," reported Reuters.
Ironically, the high amount of intense sunshine and the dusty conditions of the desert will be drags on the efficiency of solar energy in Saudi Arabia. According to the King Fahd University of Petroleum and Minerals, desert dust can reduce solar energy efficiency by 10 to 20 percent. "But what we gain from high radiation more than compensates for the loss of efficiency," said Maher al-Odan, a senior consultant at Ka-Care, to Reuters.
The problem that Saudi Arabia faces is that it highly subsidizes the cost of electricity and gasoline that its citizens consume. For solar energy to be attractive in economic terms, some believe that subsidies for electricity and gasoline would have to be eased. I agree with that position. Artificially low power and gas prices costs the Saudi treasury a lot of money, and encourages some people to waste these resources. A price increase would rationalize electricity and gasoline use, and would give the government budget a break from spending so much on subsidies. It would also encourage the use of solar energy, which is the ultimate renewable and clean source of energy.