The Link Between Women Executives and Prisoners: Collaboration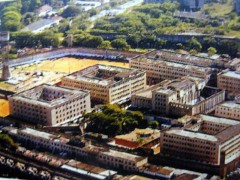 The following article deals with the topic "Implementing Board Diversity," which will be discussed at the Global Economic Symposium in Rio this October. The author intends to enrich the discussion at the symposium with her personal stories and ideas.
Drauzio Varella is a famous doctor in Brazil. Before making TV programs about health, he worked in a male penitentiary in São Paulo city called Carandiru (which doesn't exist anymore). There, he treated prisoners and tried to teach them to take care of their own health, look out for HIV, etc. With such close contact with prisoners, he learned how a prison works and how the people inside it relate to each other.
Then, in an article for a newspaper, he wrote about his experience working in a female prison, comparing it to a male prison: "Although in female prisons [hierarchy] also occurs, there isn't the same linearity. The relationships are more complex because the inmates operate in a network. Although they often give the impression to the contrary, women are especially defiant and opposed to hierarchical submission."
Before I talk about this, let's see how women relate/work in the world outside of prison.
Jean Brittingham, the founder of The SmartGirls Way, "a social-venture dedicated to empowering women entrepreneurs," and author of a book by the same title, wrote in her article "The World Needs Female Entrepreneurs Now More Than Ever": "women care more about solutions than who gets credit" and "women are the worlds' experts on collaboration."
How can we link Drauzio Varella's vision of female prisoners and Jean Brittingham's vision of women entrepreneurs? With two words: horizontal hierarchy.
According to my personal experience and point of view, that's how we prefer to function. Both at work, asking opinions of coworkers, and in the home, we really put into practice the "two heads are better than one" thing. Taking all that into account, look what the latest study by the Credit Suisse Research Institute found out: having women on boards contributes to corporate performance. "Over the past six years, companies with at least some female board representation outperformed those with no women on the board in terms of share price performance," said the article.
Of course there are several factors that contribute to the benefits derived from having women on boards, but I think that our preference for teamwork is one of them.
Nowadays, I truly believe that that's how society is going to work — and is already working. Horizontal hierarchy is one of the characteristics of the Millenniums, also known as "Generation Y Not."
So, imagine what women from Generation Y could do, too. If we take the best of what they have to offer, we'd basically live in a WikiWorld for sure.
—–
P.S. I don't agree with sayings like "women are better bosses because they are moms and know how to take care of people." This is gender determinism. In the same way aggression is not inherently male, collaboration skills don't have to be either.