The Religious Learning from Atheists — and Vice Versa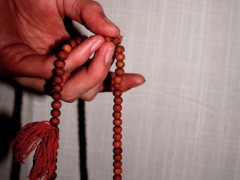 This post was produced for the Global Economic Symposium 2013 to accompany a session on "Can Religion Help Solve Global Problems?" Read more at http://blog.global-economic-symposium.org.
During a TED Talk back in 2011, the writer Alain de Botton introduced us to what he calls "Atheism 2.0." An atheist himself, he argues that there are many things to learn from the example of religion in general, even if you don't believe in any of it.
What's notable about his lecture is that it is not only useful for atheists but for society in general — believers of any religion. As the Global Economic Symposium approaches, I think it would be interesting to report on how religions can solve world problems through the lens of an atheist. Below, I summarize a few topics:
– Learning through repetition: Botton argues that believers learn through repetition, be it prayers, sermons, or mantras. In the "secular world," on the other hand, what's new is better, because people assume that once they've listened to something once, the knowledge is absorbed. Now, I ask you: at school, how many times did you have to study the Bhaskara's Formula until you really memorized it? More than once, I bet!
– The importance of oratory: You don't need to go to an African American Pentecostal church in the American South, as Botton explains, to appreciate how good oratory can make a difference. In any religious group there's always a "leader" who can catch the attention of the public using her/his talent as a speaker. In your secular life, how many teachers, bosses, or leaders in general are really good speakers?
– "We're not just brains, we're also bodies": I have a personal analogy for this lesson. My former yoga teacher used to say that, sometimes, if we could draw a picture of ourselves, we'd be just balloons full of thoughts, not using our body as we should. Despite religions taking care of matters of the spirit, our bodies also deserve attention. The body can be used as a tool to achieve greatness: baptism in the water, fasting, chastity. In Espiritismo, for example, the soul only evolves through matter (i.e., through incarnation).
– Achievement through collaboration: Botton says that "the people in the modern world, in the secular world, who are interested in matters of the spirit, in matters of the mind, tend to be isolated individuals." He argues that, alone, philosophers, writers, filmmakers, and the like can't change the world. As a group, however, it can be different. Religions, on the other hand, "are collaborative, they're branded, they're multinational, and they're highly disciplined."
I was so happy that Botton, as an atheist, could be so open minded and recognize that a lot can be learned from religions, that I, as a believer, asked myself: what can we learn from atheism?
So, I looked for some precepts from ATEA, the Brazilian Association of Atheists and Agnostics. The first thing that caught my attention was their respect towards religions in general: they don't want to offend believers, nor do they want everyone to become an atheist. They only defend their rights as citizens to not believe in anything and to not suffer prejudice because of their lack of belief.
Accordingly to Brazilian polls, nine percent of the population in the country is atheist or doesn't have a religion. In other words, some people believe in God but aren't connected to a church or religious affiliation, while others just don't believe in God. But, the most shocking number for me was this: a poll reveals that only thirteen percent of the Brazilian population would vote for a president who does not believe in God. Therefore, today, the major struggle for ATEA is in fighting the prejudice against atheists.
In their institutional video, they are very clear about what they want and defend some of the same ideas that certain religions do also:
– Scientific thinking: They follow the scientific method, and to prove something, they have to contemplate, look, examine, and then speculate. Several scientific theories were achieved thanks to this method, such as Darwinism, the theory of relativity, and atomic theory, among others.
– Secular state: Also a concept shared by Protestants, secularism is key to democracy. In order for all citizens to be well represented, government and laws should not take sides and should guarantee the right to religious and nonreligious manifestation.
– Ownership of one's own body: Each person should have the right to receive medical attention without religious interference. Euthanasia and the legalization of abortion in Brazil are some of their fights that I personally believe in, too.
– Freedom of speech: Every person should be able to express their beliefs — regarding sexual orientation, gender, nationality. What's important here could be summarized by a sentence I learned from my religion teacher in 5th grade: "your freedom ends when the freedom of others begins."
From my personal point of view, I don't see how these precepts could be bad for society. Quite the contrary, actually: it would benefit the entire population to express their beliefs, in keeping with Voltaire's great quote: "I do not agree with what you have to say, but I'll defend to the death your right to say it."
If we could check every religion in the world and their beliefs, I'm sure we would find some of these ideas as precepts. Therefore, as clichéd as it may sound, at the end of the day, we are all just human beings trying to make the best of the time we spend on Earth. For some, it's easy to believe that there's a God; others, however, tend to agree with Woody Allen: "Not only is God dead, but just try to find a plumber on weekends."