There are better examples for leadership than Turkey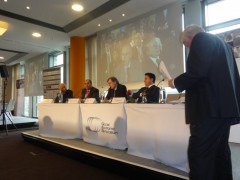 Listening to the top panel of the Global Economic Symposium 2011 'Transformational Insight into Global Problem Solving" I had very mixed feelings. The perfectly moderated discussion by Nick Gowing, brought us only a few ideas and was dominated by a Turkish perspective.
There was nothing suspicious in Ali Babacan's (Deputy Prime Minister of Turkey) statement that we need major and bold actions, and strong political 'leadership'. It quickly became one of the most popular plots of this panel. But when other participants started to catch up the idea I started to think more intensively about leadership. When they added 'trust' to the debate, I was quite sure there is something dubious in this common care of 'leadership' and 'trust'. Especially if they are considered with particular reference to government avoiding other types of 'leadership'.
Now I know, that this global discourse was simply dominated by a Turkish point of view. Ali Babacan's statements sounded really sad and seemed to be against the spirit of the Global Economic Symposium. All these issues raised by the Deputy Prime Minister of Turkey are elements of legitimization in democratic states. Legitimacy simply consists of widespread acceptance for rulers. Lack of trust undermines positions held by authorities. And the reason why the Turkish representative was circulating around leadership and trust is simply a result of the specific situation in its neighborhood and of the position held by Turkey in the Arab world.
Observing revolutions in Tunisia, Algeria, Egypt, Bahrain, and being a neighbour of Syria I would probably be worried about leadership and trust and in that way, I can understand, why the Turkish Deputy Prime Minister seeks ways to strengthen leadership. But I don't think, that the perspective of Ankara is the best case to read the global context of leadership.
Speakers:
Airun Maira, member of Planning Commission of India; Former India Chairman of Boston Consulting,
Mahmoud Mohieldin, Managing Director of World Bank; Former Member of Government of Arab Republic of Egypt,
Hans-Paul Bürkner, President and CEO of The Boston Consulting Group,
Ali Babacan, Deputy Prime Minister for Economic and Financial Affairs of Turkey.
Moderator:
Nick Gowing – BBC News Presenter