"There's No Magical Solution for Migration Policies"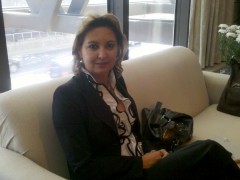 The following article deals with the topic "Designing Intelligent Labor Migration Policies," which is currently being discussed at the Global Economic Symposium in Rio. The author intends to enrich the discussion at the symposium with her personal stories and ideas.
During the Global Economic Symposium I was able to talk with Laura Thompson, the Deputy Director General and Ambassador of the International Organization for Migration (IOM), which has been in existence since 1951.
Laura participated in the panel "Designing Intelligent Labor Migration Policies." According to her, "you can't like or dislike immigration; it's a fact and a global issue, and there isn't a magic solution."
Besides helping countries to build and implement their migration policies, the IOM helps immigrants around the world to have a better life in the country they chose or to get back safely to their homeland.
One of the policies chosen by the IOM is the voluntary return program, which offers a "reintegration package" for the people.
Laura reminds us that the immigration issue has three components: the immigrant herself, the destination country and the homeland country. So, all the policies should address all of them, focusing at the same time on respecting human rights.
When asked for an example of good policies for immigrants, Laura chose not to give one: "There's no magic solution, and we cannot compare the migration situation of the USA to Qatar, for example."
In 2006, the United Nations Population Fund launched Jóvenes en Movimiento: estado de la población mundial; suplemento jóvenes, written by the Argentinean journalist Martín Caparrós. In the publication, Caparrós shares stories of ten young immigrants who left their countries as refugees running away from wars, poverty, or chasing a better life. It becomes clear during the reading that all of them, despite different backgrounds, have at least one thing in common: they are good people trying to have a good life in another country, but, several times, they were treated like criminals.
So, I asked the Ambassador, why do such things still happen? According to her, it cannot be said that immigrants are seen as criminals. Most of the time, yes, they are in illegal situations. However, once legal, any immigrant can be seen as part of the country and have a normal life.