Trade Reality: Laborers Work, the Government Reaps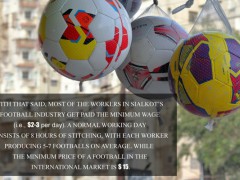 This post was produced for the Global Economic Symposium 2013 to accompany a session on "Trade, Poverty & Inequality." Read more at http://blog.global-economic-symposium.org.
While trade liberalization undoubtedly improves a country's economy, economic policies that are biased against laborers cause the population to remain poor. Policy makers need to realize the huge difference between a rich country and rich people.
Talking specifically about Pakistan, the country's exports have been good news for its economy over the past few years. However, the lifestyles of the farmers and laborers are worse now than ever before. For example, with diminishing subsidies and rising inflation, the people in the business of agriculture earn quite little. Also, labor-intensive industries are facing problems such as electricity load-shedding, which directly affect workers' wages. By contrast, as trade policies have gotten more liberal, the Pakistani government has been fetching huge chunks of money through trade. Hence, the inequality continues.
Below are some visuals that highlight the money involved in some of Pakistan's exports. They compare what the government earns to what the people who produce the export-quality goods get in the end.
Source: Express Tribune | photos by author
If football workers had the authority and ability to export directly, they could enjoy much better lives.
Source: pakistantoday.com.pk | photos by author
Many farmers eat what they grow. What if they had to buy everything from the market?
Source: nation.com.pk | photos by author
The workers in the rice fields get paid as little as $1 per day.
Source: defence.pk | photos by author
Guess where difference goes.
Source: Business Recorder | photos by author
Hence, the policies regarding trade and labor protection are not doing justice for everyone. From the production of a product to its export, everyone involved should profit according to how much effort they put in rather than how much control and power they possess. Unfortunately, the governments of a lot of developing countries usually fail to provide justice for the workers and laborers who are the root cause of a country's economic and trade sustainability. Trade policies should have labor wages as a crucial part of their design so that any improvement in a country's trade directly affects the income of the people working at the lowest level of the hierarchy.