The New Bottom Billion: The Trend of Triangular Development Cooperation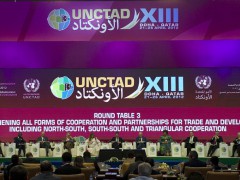 This post was produced for the Global Economic Symposium 2013 to accompany a session on "Development Policies for the New Bottom Billion." Read more at http://blog.global-economic-symposium.org/.
"As Chair of the Indonesian delegates at the Development Working Group of the G20, I understand that all G20 members are convinced that knowledge-sharing and South-South and triangular cooperation have been and always will be a good modality for development cooperation."
These remarks by Dr. Lukita Dinarsyah Tuwo, Vice Minister of the Indonesian National Development Planning Agency, during the Fourth High-Level Forum on Aid Effectiveness in Busan in 2011 reflect a growing trend in international development cooperation.
Triangular Development Cooperation (TDC) is changing development cooperation as we know it today. The TDC model involves a traditional donor from the ranks of the OECD's Development Assistance Committee (DAC), an emerging donor from the South, and a beneficiary country in the South. The World Bank states that the DAC donors most actively using the TDC model are Japan, Germany, Spain, and Canada. Emerging donors from the South hail from Africa (Egypt, Kenya, Morocco, South Africa, and Tunisia), Asia (China, India, Malaysia, the Philippines, Singapore, Sri Lanka, Thailand, and Vietnam), and Latin America (Argentina, Brazil, Chile, Colombia, and Mexico). The beneficiary countries are usually low-income countries in Africa, Asia, and South America. This list implies that nowadays any country with even modest wealth can be involved in development assistance partnerships.
Is triangular development cooperation still on the world's agenda? Pictured is the Thirteenth session of the United Nations Conference on Trade and Development (UNCTAD XIII), 21 – 26 April 2012, Doha (Qatar) | photo by UNCTAD, Wikipedia Commons | CC-BY-SA-2.0
Although it is not new, triangular cooperation has gained more attention in recent years and now frequently appears on the international agenda, in the reports of international organizations, and as a focus in academics. The momentum seems to have stemmed from the 2011 Busan forum, where one plenary session was dedicated to TDC.
Critics argue TDC has too many weaknesses and disadvantages, including difficulties with intellectual property, insufficient transparency and accountability, problems with inequality, and failures in monitoring and evaluation. Because TDC focuses on technical assistance, critics contend it gives insufficient attention to human rights, gender equality, and environmental sustainability. They also question how much the beneficiary countries actually benefit from this cooperation. Considering all these issues, it is tempting to want to shelve the approach.
But the pivotal question is: does TDC make aid more effective?
In fact, TDC has the potential to make a real difference by generating more aid and providing effective tools to eradicate poverty in developing countries. Despite its complexity, both Northern and Southern donors contribute something valuable. DAC members provide high standards and expertise derived from decades of development cooperation. Southern donors offer perspective, having been beneficiaries themselves, and valuable insights into the direction of the beneficiary country's development. This model forces participants to negotiate their positions and interests. Countries such as Japan and Brazil were once beneficiaries themselves. As such, their aid is likely to be more effective due to their own experience with what did and did not work in spurring their development.
In addition, TDC involves new donor countries that did not previously have the chance to give aid. For instance, thanks to the Japan-Indonesia Partnership Programme (JIPP), Indonesia was able to share its knowledge in health and agriculture with Afghanistan, Palestine, Timor-Leste, and Ethiopia, among others. According to the OECD's triangular cooperation project list, Egypt is involved in four projects (all run in Africa), working with Belgium, Norway, Japan, and the UN's Food and Agriculture Organization.
Ultimately, TDC may prove to be more effective than North-South or South-South aid assistance. The first Good Practices Paper on TDC has already been written, so we are no longer fumbling in the dark. There are a number of countries, including Haiti and Sudan, that are desperate for a new way of thinking about development. If traditional development aid is not as effective as it should be, TDC could be the answer.