Welcome to the GES 2011 in Kiel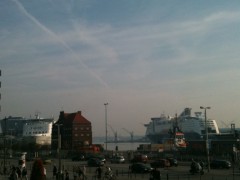 This year the GES will take place in Kiel – a city in the baltic sea region in Northern Germany. The city is well known for their ferry lines to Scandinavia and the Baltic Countries. It has a long tradition of international cultural and trade exchange with North- and North-East-Europe. This is a good place and opportunity for discussing the new forces in global governance.
The GES is on the way to be an open event – the #fc_org blogger team will attend the whole event to make all the discussions transparent. There are different opportunities for taking part in the discussion (see box on the right hand side). You can both  comment on single issues and also rewrite proposed solutions if you are interested in it. The Twitter hashtag is #ges2011, you can also find us on Facebook.
We want to bring political, economic and scientific actors together with interested and engaged people outside this conference. We want to foster dialogue!