What does trade mean for the poor? Nothing.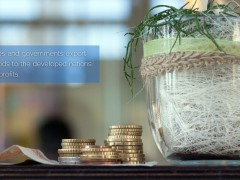 This post was written for the Global Economic Symposium 2013 to companion a session on "Trade, Poverty, and Inequality" which you can read more about  at http://blog.global-economic-symposium.org/.
During my trip to Europe as a Future Challenges blogger for the Global Economic Symposium, I have seen many people who are able to afford and buy expensive branded items which are actually produced in underdeveloped countries at very low costs. Coming from a developing country like Pakistan and analyzing the markets, prices, and taxes imposed on goods in France and Germany, this is what I have come to realize:
Trade is profitable for everyone except those who need it most. While liberalization of trade helps in reducing absolute poverty as increased production results in increased employment, the inequality of profit sharing and inequality of wages in the process of trading mean that relative poverty increases dramatically.
As the chairman of Operation HOPE, John Bryant, put it so succinctly today on the first day of Global Economic Symposium in Kiel: "There is a difference between being broke and being poor." We choose to be broke but we do not choose to be poor. Poverty results from the lack of resources and earning opportunities. Hence workers become poorer than everyone else involved in the trade cycle.