What's So Fair about "Fair Trade" between Pakistan and China?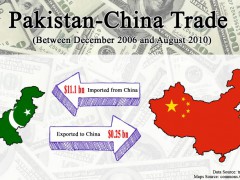 This post was produced for the Global Economic Symposium 2013 to accompany a session on "Trade, Poverty, and Inequality." Read more at http://blog.global-economic-symposium.org/.
The China-Pakistan Free Trade Agreement has provided Pakistani consumers with extremely cheap Chinese products and has also made it feasible for middle class men to start up their own local stores and businesses. However, this agreement's adverse effects are much greater and can be seen in Pakistan's industrial sector.
Most of the Chinese imports into Pakistan are low-quality finished products; many Pakistanis also think that China "dumps" all its faulty products in Pakistan. On the other hand, Pakistan's major exports to China are raw materials like cotton, leather, and marble, which are processed into finished goods in China and then sold back to Pakistan at much higher prices. Other Pakistani exports to China include agricultural products like fruits and vegetables — which help Pakistan's economy to some extent but are totally not worth the harm that massive imports from China cause in return.
Below are a few photo collages from some Pakistani markets, where traditional products have been largely supplanted by Chinese products.
 . . . And these are just three of the many Pakistani industries that suffer due to unfair trade between the two nations. To save its own economy, Pakistan needs to export more finished products into the Chinese markets. Otherwise, it is unlikely that Pakistani industries will be able to survive in the face of China's huge industries, which run at economies of scale, producing products at unbeatable prices. Moreover, border control between the two countries needs to be strengthened so that all the heavy taxes can be collected properly.