Which Country Is Home to the Largest Number of Refugees in Latin America?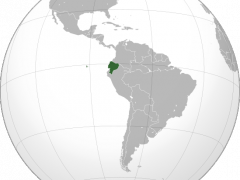 The following article deals with the topic "Designing Intelligent Labor Migration Policies," which will be discussed at the Global Economic Symposium in Rio this October. The author intends to enrich the discussion at the symposium with her personal stories and ideas.
Now, let's talk about a different kind of immigrant: the one who had to choose between his/her life and his/her country; i.e., those who didn't have a choice. The refugees.
If you think for a minute and have to guess which country hosts the most refugees in Latin America, what would you think? Brazil? Argentina? Chile?
Nope. There's a country that has received more than 150,544 people since 2000. This country, according to the CIA's The World Factbook, has a GDP of $129.1 billion (2011 est.), while Brazil's is $2.324 trillion.
I'm talking about Ecuador. Take a look at its location and size, please:
In the week I'm writing this post, Ecuador is all over the world news precisely for its offer of shelter to a polemical refugee: the Australian Julian Assange, editor in chief of and spokesperson for WikiLeaks. However, Assange isn't under investigation because of WikiLeaks, a site that acts as a conduit for worldwide news leaks. He's been accused of sexual assault in Sweden. So, Assange has been residing in the Ecuadorian embassy in London, where he has since been granted political asylum.
Coincidentally, this happened in the same month that the UNHCR (Office of the United Nations High Commissioner for Refugees) and Department of Foreign Affairs, Trade and Integration of Ecuador launched a campaign: "Gracias Ecuador" (Thank you Ecuador).
According to the website: "Through the campaign, we thank you for the generosity of all Ecuadorians who have hosted thousands of refugees in their territory. Many refugees have found a new home in Ecuador."
With the motto "give us a hand so that the truth of refugees is a global truth," any person can send a picture with the phrase "Gracias Ecuador.org" written on their hand.
Now, what caught my attention was why Ecuador? What's happening near there? What kind of refugees are getting there? For Christ's sake, I live on the same continent and don't know what's happening!
To understand that, look again at the map. The country above Ecuador is Colombia, the world's largest producer of cocaine. While government and paramilitary groups' forces fight with each other, thousands of people are forced to leave their home country because of armed conflict, persecution and human rights violations.
So, 98.4% of recognized refugees are from Colombia, and 8 out of 10 Colombian asylum seekers are seeking protection in Ecuador.
I could go on here with data to illustrate this impressive fact. I could tell how many women and children are there, their ages and where they live in Ecuador.
However, I chose not to. I believe that over-sharing sometimes leads to misunderstanding. If you have to select one piece of information from this post, choose this one:
Ecuador is home to the largest number of refugees in Latin America.
What about your country? How many refugees does it host?
—
P.S. If want to know more about this topic, visit: http://www.graciasecuador.org/.