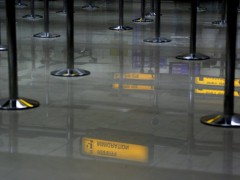 The following article deals with the topic "Designing Intelligent Labor Migration Policies," which will be discussed at the Global Economic Symposium in Rio this October. The author intends to enrich the discussion at the symposium with her personal stories and ideas.
The Global Economic Symposium seeks solutions for global problems. One of them is how to implement good immigration policies. In my opinion, before thinking about such policies, we have to ask: Why do people migrate, after all? Why do they move, leave their houses, families, cities, countries?
I've always lived in Brazil. The exception is the four months I chose to go to Washington, D.C., to study global trade and work in a radio. However, I also chose to come back to my country, to my house, and finish my college.
Unfortunately, that's not how it works for the majority of immigrants. They don't simply choose to travel and live in a different culture.
This is one topic I'd love to understand. With that purpose in mind, I read "Jóvenes en Movimiento: estado de la población mundial 2006," a report written by the journalists Martín Caparrós and Shyamala Shiveshwarkar for the United Populations Fund (UNFPA). They interviewed ten young people to gain an understanding of why they moved. Stories like that of Adama, who crossed four countries from Burkina Faso only to get to Spain with no documents or money, helped me to start to understand this topic.
(If you understand Spanish, the document is a simple PDF, online, and you can read it here for free. I encourage you to do it.)
Despite the fact that the document is from 2006, the reasons given to explain migration in the world are still the same: economic migration, social migration, political migration and environmental causes. In other words: immigrants, in a majority cases, don't choose to go to another country but rather run away from where they are.
In January 2009, an earthquake devastated Haiti, killing hundreds of thousands of people and leaving the country worse than it had been. Even before it happened, the Brazilian army was leading the UN peace corps there in helping the country. So, the Haitian people were able to learn more about my country from the soldiers working there.
With that in mind, take a look at this graph, made by the Brazilian government and translated by me. It's a statistical representation from March 2012 that shows where people who have applied for Brazilian residence on humanitarian grounds are from. The numbers show how many people have applied since 2009:
This shows that, in two years, 2,300 Haitians arrived in Brazil. Another interesting fact is that they didn't go to São Paulo or Rio de Janeiro. Most of them are in the states of Amazonas and Acre, in the north of Brazil, an undeveloped area still cover by the rain forest.
Here's a view of the streets of the capital city of haiti:
How can we, a Portuguese-speaking people who have never suffered a tragedy that big, help the Haitians, a French-speaking people so used to misery and suffering? How can we provide a better life?
That is such a difficult question with so many issues, so many things to take into account. So far, I agree with some Brazilian policies to help them. Our government is issuing five-year work visas, even though it doesn't have a labor contract with any enterprise. It's a chance the Haitians have to start all over again.
This year, the Brazilian Labor Minister Paulo Roberto dos Santos Pinto told CNN how we can take advantage of them, in a good way: "For example, the Haitians speak French and could be useful in the cities where the World Cup games will be held." Also, another politician, the country's justice secretary Paulo Abrão, wrote on Twitter: "Brazil can be an example to the world of an immigration policy that is open and democratic, which reflects our historical welcoming tradition."
Amen, secretary. Amen.
In July 2012, Colombian refugees made traditional meals for Haitian immigrants in Brazil. News like that proves that it's possible to receive people well, despite culture, language and country.