Ghana: How Far Can the Ebola Crisis Go?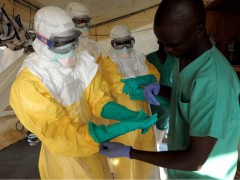 Liberia, Guinea, Sierra Leone and parts of Nigeria are literally in the Ebola hemorrhagic fever lock-down. For months, these West African countries have been battling the contagious Ebola virus disease which has claimed over 1000 lives and left at least 2000 infected with the disease. Ebola is a deadly disease with no known medical cure although trial vaccines are ongoing.
Ebola is a viral illness of which the initial symptoms can include a sudden fever, intense weakness, muscle pain and a sore throat, according to the World Health Organization (WHO).
Available research shows that Ebola  first emerged in 1976 in Sudan, after some months, it reappeared in Zaire, Philippines, Cote D'ivoire in 1994 and lately in Guinea, Liberia and other parts of West Africa. Ebola has also been confirmed in Democratic Republic of Congo with some reported deaths and new infections. The disease has also attacked non-Africans especially those who were giving medical care to the infected. The fatality rate of Ebola has increased from 53% to 88% over the years.
The spread of this viral disease is very appalling as it is capable of impeding the progress of foreign direct investment in the West African sub-region. However, there have been several preventive educational policies by the Ghanaian government, local and international organisations and corporate bodies to clamp down the disease through public education. In Ghana, the Ebola Education campaign and the Ebola education fund are notable among the preparedness of the country to prevent the spread of the virus. Ghana has yet to confirm an infection of the Ebola disease, after recording cases in Liberia, Sierra Leone, Guinea, Nigeria and Senegal.
These campaigns are most importantly aimed at the rural folks who are more susceptible to contracting the disease because of their exposure to the animals suspected to spread the virus like monkeys.  But the worry is that the science research centre in Ghana, Noguchi Memorial Institute, which should be able to come up with preliminary solution is not well-resourced (although it has undertaken some research, but ob
viously not enough) to undertake such researches to reduce the heightened tension as far as the viral disease is concerned.
Other countries struck with this dreadful disease are also not relenting in their efforts to curb or possibly eradicate the Ebola virus. For instance, Nigeria has closed all schools until further notice pending the screening of the virus and preventing it from going viral. Despite the severity of the situation, African governments are poised for action to bring it under control.
Borders have closed to prevent citizens from infected neighbouring countries from entering freely though the World Health Organization has advised against it. For instance Senegal has closed its borders to Guinea over fears that that the Ebola outbreak could spread.Kenya government  in East Africa gave in to pressure from its citizens to stop flights of its national airline, Kenya Airways, into West Africa particularly in countries affected by Ebola. Other major international airlines to suspended flights to West African countries affected by Ebola.
Trade among some other West African countries is almost at a halt although intra-business activities are on-going.  In my opinion, the general foreign investment and development in the region will be negatively affected because of Ebola. When any crisis hits the continent, although endowed with all the necessary resources for economic development, there is a reduced number of possible investment that will come from foreign investors. This is chiefly due to the fact that, such investors would not want to deal with any health hazard or uncomfortable situation in their quest to do business in the sub-region or the continent as a whole.
Therefore how far can this social menace go? The preparedness of the region and the willingness of the international community to respond to this health situation cannot be underestimated and can go a long way to  drastically control it from spreading across the whole of Africa, and the world.
(Additional reporting by Mubatsi Asinja Habati)
Tags: Africa, Ebola, ghana, Guinea, Health, Liberia, Nigeria, Senegal, Sierra Leone, west africa, WHO