Global Media Forum: Sights, sounds, and all the action!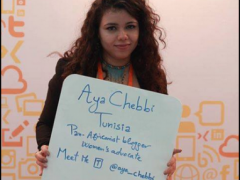 What's the next big thing after Facebook and Twitter? Is social media the peak of journalism, or is there more to be seen? Is there an end in sight for the battle for supremacy between traditional and social media?
What is 'clicktivism', how effective it it, and what do millions of signatures collated from various parts of the world mean to a people crumbling under oppression from a government policy, what does it mean to parents and an entire nation languishing because young girls were kidnapped from their school by insurgents and more than 100 days after, there is no definite word on when they'll be rescued?
These questions and many more formed the foundation for discussions at Deutsche Welle's 2014 Global Media Forum. Themed 'From information to participation – challenges for the media', the attendees and panelists were drawn from academia, policy, new and traditional media (in case you cannot function without a differentiation of both), activism, tech, amongst others.
As a participant invited and sponsored by DW, I was privileged to attend a workshop delivered by the awesome guys at Digital Participation Camp (DPC). Let's talk a bit about DPC shall we? They're based in Munster, Germany, and are a network of innovators, techies, activists from around the world working to disrupt stuff with super crazy ideas!
There's a lot more about them here
I cannot get over the session Matthias Haas delivered, I have never had Facebook as a tool opened up to me like that, ever! It honestly felt like I was 'meeting' the platform for the first time, and unwrapping all the tips and tricks that enable optimal performance. Loved it!
I love strategies (no surprises there), and so when were told our brief was to increase interactivity between participants at the conference, my brain went into overdrive! As did everyone else's, and I'm super proud of the things we came up with!
Here's a photo and video to give you an idea of a few of the things we pulled off.
To the sessions, I was often in a quandary as to which session to attend and which one to miss out on, they all looked so rich and everything. Problem was there would be five sessions and you could only pick one – whatever happened to my time warp skills? Would have had a swell season going back and forth in time!
That said, the ones I managed to attend really provoked a lot of thought, and one of them so much that I wrote about it. Future Challenges published 'Revolution in Africa – the Inaccuracy of Labels', soon after I left Bonn.
The boat ride? Kiss of my life. Whoop! Start with lunch was fab, but can I say that you cannot take advantage of an opportunity if you don't know about it? I'll explain why.
So on the upper deck there was a massive barbecue going, and we had lunch there. All of a sudden my friend Aya and I saw the 'floating ice cream tray' and our following it led us to the middle deck where there was a gorgeous buffet laid out! We didn't know it was there! See, if you don't know, you can't enjoy!
I don't remember where we sailed to, but I remember meeting people, sharing things I'm interested/involved in, and listening to the awesome ways people all over are trying to change the little spaces they are in. I also remember the concert by The Good Fellas, and the party that left my knees shaking by morning!
Did I mention we got lost walking back to our hotel after we got off the boat, circa 1.30am? No jokes, we were walking for just under an hour! We made it home safe eventually (obviously), and I can imagine my friends just collapsed into bed, I know I did!
Final day there were speeches, and yet another reception at DW, and then it was time to go, and prep for my flight out the next morning. Germans are such warm people, and meeting a lot of them (February in Hamburg and then now in Bonn) reinforced the thought that it is always best to approach a people with an open mind, devoid of any stereotypes.
Global Media Forum was an experience I will keep with me for a while, maybe till the next one just so I can make new memories!
PS – I have a day-to-day account of the entire week which will be published on my blog in a bit, watch out for that!
Tags: Deutsche Welle, Digital Participation Camp, Facebook, Global Media Forum, journalism, social media, Twitter