Globalisation: a matter of grey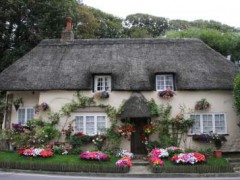 A girl sits across from me on a train destined for Falmouth in Cornwall on the English South West Coast Path, with an assortment of luggage surrounding her feet. She is travelling from somewhere far away. She watches a movie with what seems to have Korean and French subtitles while updating her Facebook status and texting a friend on Viber. Her bags are covered in stickers of iconic brands like Pizza Hut, Hello Kitty, Coca Cola, MacDonalds, Lays and 7Up.
The train stops at Penryn station and the girl exits. Outside, row after row of identical looking tall brick houses line the streets; their chimneys raised high. The sleepy town is small and there is a central park and sandstone church with a steeple. The bell tower begins to chime. Once upon a time, this town would have been inaccessible, but now, travellers from afar, just like this girl, journey to the quiet town for a different travel experience.
Time and space has been shortened by globalisation. What would have generations ago seemed impossible is now achievable with a click of a button online or a quick (or long) flight across seas and continents.
Connection. The opportunity to mix and mingle as one human race outside of our differences in culture, language, custom, and religion. That is what globalisation means to me. Conversations, partnerships and collaborations.
Globalisation is also education. We know more about the world and more about people because of technology and developments in science and social inquiry. What was once considered 'foreign' is now familiar, and I'd like to think that has made us more informed, aware and respectful of each other, and has helped strengthen and reinforce that connection.
Living in London – a cultural, political and monetary melting pot on Europe's doorstep – has made this gleamingly obvious to me. It's a place where counter cultures exist side by side.  Where a woman dressed in a burqa with daughter in hand strolls past a bank man speaking numbers and statistics on the phone in a finely pressed suit. A Jamaican man busks, singing of redemption and freedom of slavery while a lady and her husband, most probably in their 70s, walk on by in matching vintage track suits. It is multiculturalism and diversity at its finest.
But there is no clear black or white when it comes to discussions on globalisation. It's a matter of grey.
Globalisation in my opinion has also highlighted and pronounced the great disparity between the wealthy and the poor. The movement of people from place to place has meant our idea of home has become transient, and disadvantaged individuals and groups are faced with circumstances which pose great risk and vulnerability more than ever.
We have also witnessed the mass commercialisation of our cultures, environments and values. Our unique distinctiveness as irreplaceable entities with exceptional histories unlike no other has been lost to a certain extent, as our cultures grow more global.
Language is a perfect example of this. I was recently on holiday in France, and learnt that language is guarded with the upmost  respect. It is safeguarded from the influences of English and the tendency to shorten and merge words, in the way we do for convenience more often these days. While the French government does not  regulate the choice of language in publications by individuals, it does have a law in place that makes French mandatory in commercial and workplace communications.
Established in 1635, the Académie Française (French Academy) is the official authority on language, responsible for the publication of the dictionary. While its rules are only advisory, its suggestions are considered carefully. When Apple released the IPod, the advisory board took some six months to consider whether the new technology was female or male to decide on the proper naming of the noun.
So what's my opinion on globalisation?
Connection, education, open dialogue and worldwide exploration are essential as we grow and evolve, and become a more united community the world over. I think globalisation is the lead facilitator in this regard, but on the flip side, this question also needs to be asked: At what risk to our culture, history, values and environment?
I'm not sure of the answer, but I do know it is a question we need to ask more.
Tags: Apple, burqa, connection, Cornwall, education, Europe, Facebook, GLOBALISATION, London, multiculturalism, Penryn, space, time, Viber