Hand-made Crafts: Survival in a Globalized World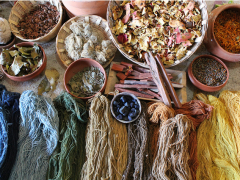 When I was a young girl, my parents always advised me never to bargain with artisans who sell hand-made crafts in Mexico but to pay the price that was asked. Why? Because the artisans hardly make enough money to live on with the low prices of the products they sell.
Each region in Mexico has its own art, from traditional pottery in Puebla to Oaxacan rugs, and villagers are the ones who preserve the traditions handed down across the generations. But how is opening flow of trade across borders affecting artisans? What are the key consequences of international agreements on Mexican culture?
When visiting another country some tourists believe that buying crafts is taking part in the local culture. In a globalized world this is not necessarily true. Mexican artisans often complain about foreign imitation of the products they sell which they point out are of a "lower quality – you can see it in the time they take making them".
According to the Mexican National Peasant Confederation (Confederación Nacional Campesina), at least eight million Mexican artisans are at risk of being put out of business by the large amounts of pottery, jewellery and clothes that look Mexican and are sold in Mexico but are actually made ​​in other countries, for example, China.
The Asian market shows great ingenuity and innovative when it comes to producing Mexican-looking crafts. At first sight some people might not even find a difference between a product made in China and one made in Mexico and choose to buy the less expensive replica. It is, however, "the local products, the tradition that comes from past generations and the feeling that goes into making the artifacts that makes them unique", local artisans say.
Today we are taught that time is money. This makes it difficult for the artisan to compete against industrial prices. "Who cares if my rug was made by a local craftsman in rural Oaxaca or in a factory where they churn out thousands of copies?" some people might think.
But the final answer lies with us, the consumers. We should care. It is us who make the final and all important decision to support the local economy by buying products directly from the artisans themselves, and who should take the time to inform ourselves just where these products come from. Consumers should appreciate native talent and pay a fair price for the crafts that are true masterpieces and that make local identities exist in a globalized world.