Teen girl raped in Egypt speaks out, defies abuse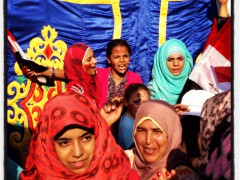 There she was, sitting in a sweltering sitting room in Cairo, her scarred face haloed by her Islamic headscarf, her pregnant belly pushing out a bit, her 18-year-old hands resting lightly in her lap. She asked to be called "Ghada," and she is one of the bravest women I have ever met.
When I was introduced to her at the Hope Village shelter for street girls in the Egyptian capital last June, Ghada was ten weeks away from giving birth to a child conceived after being brutally raped on the street. Her face was left permanently scarred by her attackers, a cruel-minded mark of abuse intended to shame her forever in Egypt's conservative society.
Today, as the world marks International Women's Day, it's an opportunity to do the opposite. It's an opportunity to take pride in women like Ghada – to recognize women unafraid to speak for freedom even in the face of assault.
When Ghada spoke that day, she spoke out for justice. I asked her what her biggest hope for Egypt was during an interview as part of work on GlobalPost's "The Voice and the Veil," a project on the Egypt's female revolutionaries, and she responded: "That there are no more people homeless on the streets."
A vast number of Cairo's homeless are children –a 2011 government study claimed some two million children were living on the streets, 400,000 of whom are probably being trafficked, according to state media. The real number may be much higher.
Given that reality, I couldn't believe what I was hearing from Ghada. Here was a woman speaking up for children despite the violence that unexpectedly left her a mother.
Also unexpectedly, Ghada become something of a revolutionary during Egypt's historic anti-government uprising two years ago. In fact, on the very day that was to go down in history as the first day of protests against Egypt's autocratic ruler Hosni Mubarak, Ghada recalled walking into Cairo's Tahrir Square.
"The first day I went was January 25," she said through a translator at the shelter. "I was actually working there, at the beginning. I went because there were a lot of people, and then I stayed because I saw that people were dying. That was wrong, so I stayed. … I stayed many nights in the square. It was safe, and free."
For months, hundreds of people camped out in Cairo's Tahrir Square to call for the end of Mubarak's regime, and many were killed in violence between regime forces and demonstrators.  In response, demonstrators set up barricades, put up big tents, cooked food, screened political films, staged revolutionary theater, and shook their fists at their country's ruler.
That kind of atmosphere attracted many wandering youths like Ghada, whom shelter organizers told me had spent her whole life on the streets. But living in Egypt's epicenter of anti-government activity really changed Ghada, the shelter director said.
For her, "it was an opportunity to go to the square and say: I hate the police," the director said. That is understandable. Life on the streets in Egypt is not easy. Even after Mubarak's overthrow, the police did not protect Ghada from being raped. In fact, women in Egypt and elsewhere are still routinely victimized, constantly harassed, even openly attacked.
Ghada's story cries out for justice. Women throughout the region desperately need greater protection. Institutions like Hope Village and other groups that support victims of abuse need support. When I visited the shelter, it was about to be shut down for lack of funding.
International Women's Day, I believe, is about drawing attention to courageous women like Ghada as much as it is about addressing their anger — a righteous anger – by holding states accountable when they fail to protect them.
Tags: arab spring, Domestic abuse, Gender rights, human rights, Rape