How African Athletes Performed At Olympics 2012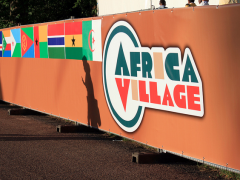 Writing a review of Africa's participation in the Olympics has been harder than I imagined. With my country Ghana, the assessment was very simple and could be summed up with one word – flop.
Looking at the continent as a whole the picture is more complex but it is safe to say that at the end of the games, there are many disillusioned countries. Africa's participation brought joy to some and misery to many. Much of the excitement was around the track and field sessions with long distance running our best hope for golds on the track. And in some instances like when the Nigerien rower came in last, even in defeat something was won.
South Africa's team was probably the most diverse in terms of the sports their athletes competed in.
From Cameron Van der Burgh in swimming to hockey to their track and field team they had a nice mix of athletes. The rainbow nation also probably had some of the most redemptive sports stories out of the games. The comeback of Caster Semenya who has suffered untold humiliation and a crisis of confidence was complete as she crossed the line for silver in the women's 800m.
Oscar 'Blade Runner' Pistorius was one of the darlings of the media as he defied his disability and showed the courage that the Olympic spirit has always encouraged. He might not have a medal but his determination was inspiring. South Africa's history and its project at building a cohesive society has in many ways contributed to the diversity of its teams. Yet, one cannot discount that their organization and use of resources are major factors in South Africa's continued dominance in Olympic sports on the continent.
Nigerians are smarting from their underachieving athletes. It was the country's worst performance since Seoul in 1988. It would be easy to refer to the Nigerian basketball team's result against the United States as emblematic of the whole contingent's performance. However, they represent something new as African basketball has been dominated by the likes of Angola. It was encouraging to see them compete and they can definitely be proud that they made it.
Nigeria placed high hopes in young sprinter and jumper Blessing Okagbare who has had some stellar performances this year. She didn't medal and her performances were uneven. She faded in the 100m final but we saw her potential in the qualifying heats. Much like Ghanaian weightlifter, Alberta Ampomah, Okagbare is one for the future.
Perhaps in Rio in 2016 these two athletes and many like them who have shown promise will end up like Gabon's Anthony Obame, Botswana's Amos Nijel and Uganda's David Kiprotich. Obame won silver in Taekwando and kept Gabon in the news after its wonderful hosting of the African Nations Cup earlier this year. Botswana would have been very disappointed that star athlete Amantle Montsho did not win a medal. Nevertheless, Nijel's surprise will lessen that disappointment.
Football is the continent's passion and a sport where African countries have made their mark in past Olympics. Ghana, Nigeria and Cameroon have gained 'notoriety' at Olympics tournaments winning medals and denying giants like Brazil that elusive gold. This year it was Senegal and Egypt's turn to continue this tradition. Senegal looked like they could win a medal. Their run was short circuited by eventual winners Mexico – the Senegalese raw talent undone by naivete.
Africa's reach is not restricted to those athletes who represented the countries on the continent. Mo Farah is perhaps the best example of an African diaspora that continues to expand and excel in more than just sports. At the same time he is an example of our inability to create the right conditions for our youngest and brightest to reach their full potential. War and economics are most responsible for the loss of talent like Farah and this is lamentable. Even more disconcerting is when athletes abscond from the games village.
The economic crisis in many parts of Europe means that life might not necessarily be better for them. It is a measure of their despondency however and acknowledging it might force us to confront our poor sports management. Then again, it would be hypocritical to be overly critical of these athletes as they are no different from other young African professionals who are looking to 'better' their lives.
Farah and other athletes of African descent have filled the void left by our athletes' failures.
Somali-born Farah and marathon winner Stephen Kiprotich's emergence are also the clearest examples of a broadening base of long distance running. Addis Ababa and Nairobi will be reassessing their place with the possibility that they have become complacent.
Kiprotich was given a hero's welcome in Uganda but what struck me were his words for Ugandan authorities even in triumph. "The sports minister spoke about something which touched me so much about the facilities, the training grounds," he said.
"I hope that what she has said would be handled quickly, it should be done immediately because we are suffering, a lot of athletes are there but some of them, they have not yet discovered their talents because we had no facilities."
Kiprotich speaks for many athletes across the continent who have the potential to be every bit as good as the Jamaicans we all love to cheer in the absence of our own excellence.
All told, Africa's Olympics could be so much better. 'There is room for improvement' would fill the comment section on an African Olympics report card and perhaps the inquests in some countries into money spent and athletes' performances will transform athletics on the continent just in time for an African country to host the Olympics. Nairobi 2024 anyone?
Tags: 2012 Summer Olympics, Africa, Amantle Montsho, Caster Semenya, Mo Farah, Olympic, Uganda, united states