If doctors were our lovers…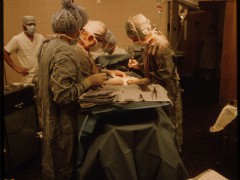 Should you ever end up on the operating table in Romania, one of the last thoughts that might go through your mind before passing out is: "Did I pay the doctor enough?"
Photo: The U.S. National Archives
For a long time, as a child, I was convinced my grandmother was having a relationship with her doctor. Even if she was in her 60's, she was still very beautiful, and with a husband who died a year before I was born, it made all the sense in the world that she was seeking love again. It was the only way to explain the gifts she was constantly taking to her doctor, usually coffee and cigarettes.
As I grew up, I discovered my mother was doing the same kind of thing, only this time I felt indignation: is she having an affair with the doctor? Why is she buying all sorts of small gifts every time she goes to see him? Is there something wrong between her and my father? And if so, why aren't they trying to fix it and make their marriage work again?
-Mom, is there something you want to tell me?, I eventually asked.
– What do you mean?, she said.
– Well,  every time you go to the doctor, you buy something to give him. Grandma used to do the same, but I could understand that because she was single and had every right to go out and look for love. But why you? Dad is a great guy and I simply don't understand it, I replied. I must have been around 9 or 10 years old.
Mom started to laugh at me. And she laughed hard.
– No, I am not in love with the doctor and he is not in love with me. I buy small things and give them to him to show my consideration, and, of course, I expect him to be more caring about my needs and health issues as well, she answered.
Giving presents or money to doctors is common practice in the Romanian public healthcare system. Even if mother, or father, or myself, pay our monthly contribution to the system, we find ourselves in this unspoken habit of offering an extra little something so we can feel mentally more comfortable that we've done everything in our power to get the best care.
I have never given any presents to doctors. Well, truth be told, I only did it as a child, when grandma or mom would give me a package to give to the doctor and I would feel very awkword and ashamed of this giving which I always found inappropriate and stressful. As for nowadays, though I pay my contributions to the healthcare system, I always go for private services for which of course I pay again. It's not necessarily that they are better, as usually the doctors are the same ones working in the public system as well, but it's the cleaner clinics, the better conditions and an evident extra amount of care that makes me do it.
The Romanian public healthcare system is one of the poorest in Europe. Some 50,000 doctors work in the system with increasing numbers leaving it every year. Some go and work abroad, some have a career change. With an income of between 170 and 340 euro and the high stress implicit in this profession, being a doctor in Romania seems a courageous act, in terms of living standards but also considering the poor public image doctors have in this country. Sometimes this is because of the mistakes they make which are presented in a very dark light by the media, and sometimes it's because of the bribes everyone's supposed to give every time they go to the doctor. In 2010, the government had planned to close down around 150-200 hospitals out of the 450 across the entire country serving a population of a little over 17 million people. Since April 1st 2011, 67 hospital have been closed down. In May 2010, the debt public hospitals owed to pharmaceutical suppliers was estimated at 100 million euro.
Grandma and mom never had a relationship with their doctors. Though if they had, they would have been the best lovers ever. Them and the rest of the Romanian population.
Tags: bribery, Central and Eastern Europe, Corruption, doctors, Healthcare, medical system, romania