Improving Good Governance in Africa, The Role of Mo Ibrahim Foundation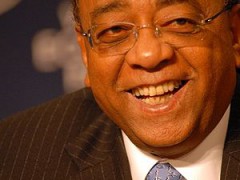 What are the mechanisms that can be utilized in order to accurately assess whether a country abides by the values of good governance or drifts away from them?
The questions above got me thinking all weekend which lead me to share ideas on the topic: Improving good governance in Africa, the role of Mo Ibrahim Foundation.
For African countries, the Mo Ibrahim Foundation provides an answer to these questions, and this post will give you an overview of an organization not known to many.
Let's first take a look on the man behind this foundation: Dr. Mohamed 'Mo' Ibrahim, a Sudanese-born British entrepreneur and self-made billionaire. Currently ranked by Forbes as the 1075th richest man in the world and 32nd richest man in the United Kingdom with a net worth of 1.1 billion dollars, Ibrahim had dedicated his efforts in the field of business, more specifically telecommunications.
He created the Mo Ibrahim Foundation in 2006, and diverted his attention from business to good governance practices in Africa. The Foundation focuses on its main mission which is to provide "tools and advocating for progressive leadership and responsible management" in order to reach its ultimate goal, as stated by the foundation's website: "the Foundation works to bring about meaningful change in Africa".
Then, how does the Foundation practices what it preaches?
Through a comprehensive diversity of programs such as the Ibrahim Fellowships and Scholarships, the foundation provides opportunities and experiences for African leadership in the academic and professional fields, with exposure to prominent institutions as well as multilateral and international organizations. This clearly shows the foundation's commitment to invest in African leadership and improve its commitment to the values of good governance.
And that is not what is the most interesting about the foundation. It would strike you to know that the organization is behind the world's highest paid annual award (higher than the Nobel Prize by a good margin) whose recipients are African leaders who have "developed their countries, lifted people out of poverty, and paved the way for future prosperity and success", basically another way of encouraging leaders to promote democratic practices, ensure transition of leadership and commit to good governance in their respective countries.
How can the performance of the government in your country be evaluated apart from the Mo Ibrahim Index?
Tags: Africa, Foundation, Ibrahim, Mo Ibrahim Foundation, Nobel Prize, Sudan, united states