In This Digital Age Not Even a Tweet is Taken for Granted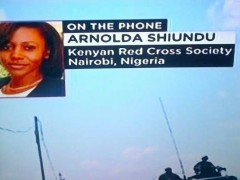 You fancy yourself as a fair and sensitive commentator, always sure to consider the isms that may blight an otherwise thoughtful opinion. You often call out racism and sexism in articles, essays and news reports especially about Africa. So it comes to you as a shock several people accuse of you of being insensitive when you are reporting about the Imbizo, a gathering of Zulu people called by their king, in this case, King Goodwill Zwelithini. The gathering was called to clear the air on the recent xenophobic attacks in South Africa which led to the loss of lives and property by mostly other African nationals. You are trying to describe the actions and reactions of the persons in the stadiums, most of whom are Zulus. You use the term "these Zulus". And the backlash begins almost as quickly as you tweet out the phrase. At first you think they are just a bunch of annoying persons, of which there is no shortage on social media. But then you realise that this is no mere reaction. You quickly speak to a South African friend who tells you "Oh no! You cannot use the term 'these Zulus' in any positive context in this country."
Then you eat humble pie. As you apologize, you think, this is the world we live in today: nothing can be taken for granted and a single insensitive tweet or statement can cause anything from global outrage to a diplomatic row between two countries. The duty on all those who use media, but especially news curators and makers to be aware their audiences have never been more important, now that people can react in real time from half way around the world.
You think of the recent geographical mistakes of CNN and wonder why it seems they are unable to find Nigeria on a map. The last time they had a caption that read "Nairobi, Nigeria" while reporting about the massacre of students in Kenya, people had taken pictures of the error and published them on Twitter before the report even ended. The immediacy of news means that errors are judged instantly, publicly, and many times protractedly. This immediacy also means that things which may be perceived as offensive without context, like satire, may be judged instantly, before such context becomes clear.
You think about context in the global space and just on cue, you read Salman Rushdie's tweet where he spoke against critics of the French satirical newspaper, Charlie Hebdo, saying: "C[harlie] H[ebdo] antiracism re-described as racism by people who don't know French context." You wonder where to draw the line between free speech and context on the one hand and sensitivity and awareness on the other. Is a drawing or text racist because the reader perceives it as racist or if the author projects it as racist?
Another tweet comes in, addressing your use of "these Zulus". The author of that tweet, a South African, comes to your defence, arguing that because you are neither South African nor in South Africa, and although the phrase is loaded there, you cannot be expected to "observe our linguistic idiosyncrasies".
In the end you think about the burden that is placed upon people who are news makers and curators – those who know the power of words in our ever shrinking global space, who understand how something published in Scandinavia  can lead to deaths in Northern Nigeria, who understand that in the virtual media space there are no borders within which to hide and who know that although content is becoming increasingly universal, context is still very local. It is this burden that makes you apologise.
Tags: Africa, Digita Age, Kenya, Nairobi, new media, Nigeria, South Africa, Zulu