Inclusive Growth: The Uganda Perspective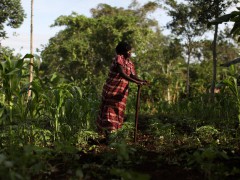 Joyce Bwambale is a smallholder coffee farmer on the slopes of the Rwenzori mountains. Like many smallholder farmers on the mountain, Joyce depends on coffee as her main cash crop.
This season Joyce is upbeat that the coffee harvest will be good. In a season of bumper harvests like this one, Joyce and her husband sell the fresh coffee berries and earn 3 million Ugandan shillings  (approx. $1,200) per harvest. Coffee is harvested twice a year which means that in a year of good harvests Joyce earns 6 million Ugandan shillings  ($2,400). This is way below the 20 million shillings mark ($8000) Uganda's president Yoweri Museveni is campaigning for as annual household income.
With his mega project Prosperity for All, President Museveni believes that the targeted 20 million shillings income that will lift millions of Ugandans out of poverty can be achieved by use of modern agriculture. The President has so much faith in the Prosperity for All programme that he has been travelling the countryside educating peasant farmers like Joyce on how they can transform their household incomes through better agricultural practice.
In my view, the Prosperity for All programme in Uganda is a good example of inclusive growth which, as Wikipedia explains, means  "broad based growth, shared growth, and pro-poor growth" – the kind of growth that can be expected to reduce poverty.
The 2011 gross domestic product (GDP) per capita for Uganda stood at $1,230. But GDP is not the most accurate measure of economic progress as it lumps both poor and rich in the same boat. Even those Ugandans who cannot afford two meals a day are shown as earning or spending gross national income GNI) of $1,230 a year. Perhaps a change in the measure of national income would give a more realistic picture.
Glossy GDP figures like this fail to accurately reflect the actual reality on the ground. A study released in March this year indicates that 67% of Ugandans are living below or on the poverty line. "About 67% of Ugandans are either poor or highly vulnerable to poverty. This includes not only those Ugandans who live below the official poverty line of $ 1.20 (about 3,170 shillings) a day but also those who, even though they live on around $2.40 (about 6,340 shillings) a day or twice the amount of the official poverty line, still lead precarious lives in the shadow of extreme poverty" says Dr Fred Matovu one of the authors of the study.
Government policies and programmes like Prosperity for All are intended as as solutions to the looming threat of poverty in the country.  Uganda's president is adamant about his Prosperity for All programme: each time he speaks to crowds he has a model farmer on hand whom he asks to tell the audience about his or her farming business. The inspirational testimony of the model farmer is expected to encourage other peasant farmers to enroll for commercial farming as a way of improving their household income.
The target of 20 million shillings a year for every household has been criticized as being overly ambitious. But the president has stood his ground. Considering the World Bank GNI per capita for Uganda, it means Ugandans have to find more entrepreneurial ways of earning the $6,770 balance to meet their President's set goal in his Prosperity for All project.
It is important to note that the aims of the Prosperity for All programme are to be achieved not through introduction of modern agricultural practices alone but in conjunction with other complementary mechanisms like universal access to primary and secondary education, removal of cost-sharing in public hospitals, improved road networks to facilitate  transportation of agricultural produce, availability of markets, etc.
In all these projects, the government of Uganda is preaching the gospel of inclusive growth. Yet whether this is achievable is another matter altogether.
As things stand, there is certainly the will to accomplish these goals. Farmers like Joyce have heeded president Museveni's prosperity for all gospel and they are beginning to reap big benefits. Joyce is now sending her children to private schools which are believed to offer a better type of education. She is also building a permanent brick house.
If her coffee and five dairy cows continue to do well, Joyce will improve her standard of living. And it is hoped that the folks in Joyce's village will learn from her success and take the same path to better their own living conditions.
Tags: coffee, Development, inclusive growth, Museveni, poverty, Uganda