India: Of Poodles and Doodles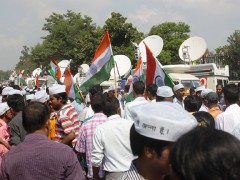 Ostrich Heads in the Sand: We are not even talking about the money carted away to Swiss banks; political leaders accused of big-ticket corruption; ultra-leftist rebels killing policemen and blowing up schools; children falling into open drains; land scams in housing; deaths in train accidents and growing inequality.
Not to mention that the country's runaway population is not even an issue on the political agenda.
Anti-Graft Agitation: Last year, when people marched in solidarity in response to a call against corruption by Gandhian leader Anna Hazare, it was a call to the rulers to take stock of how they were running the country. Tens of thousands of people–from students to women fighting the real estate cheats–were out on the streets asking the government to strengthen laws against corruption.
Though the government was rattled, the proposed anti-graft law is still being debated. Now citizens bristle and feel cheated at the government's open contempt for anything to do with reining in corruption.
The Chimera of Governance: All these examples fuel the question–what kind of a democracy is India? After all, it is a country where individuals enjoy freedom of expression; people exercise power through the Right to Information; the media is unfettered till it bows down to nurture its own corporate interests; opposition parties have a major play in governance and other seemingly democratic institutions work.
Then how come that Indian politicians can cock a snook and get away with such arrogance? And they do indeed keep getting away with decisions that are undemocratic and often not in the best interests of the people.
Here Today Gone Tomorrow: The supposed watchdogs in a democracy, India's opposition parties, offer little by way of advice, direction or opposition. They are so busy squabbling for the spoils of power, they hardly have the time to point out the wrongs of governance nor the inclination to take on the government for citizens' rights. It's been a long time since we heard the opposition rasising hell about rights for school drop-outs, maternal mortality, water and sanitation, women's empowerment or eradication of poverty.
Misplaced Priorities?: At a recent BRICS (Brazil, Russia, India, China and South Africa) meeting, India has pledged an additional $10 billion to the International Monetary Fund to help iron out the Eurozone crisis. It seems commendable that a developing nation is helping out an entire first world continent in distress. But, should India not pay heed to its starving millions? It would be apt, and it would be certainly within our rights, to ask the Indian government whether it should be directing its money to providing luxury for the few or the basic necessities for the many.
Bridging the Gap: With the world's largest companies growing bigger than many nation states, corporate governance has come under scrutiny. The 2008 recession and companies going bust hit Indian shores as well. We just might be standing on the threshold of another recession.
No wonder that when the Indian government proposed that companies spend two per cent of their profits on Corporate Social Responsibility (CSR), it raised the hackles of a great many people. It was also a tacit admission that businesses can do good to society and even fill in the gaps left by the government. The government now wants companies to show how they are spending that two per cent of their profits on CSR.
This is one of the few decisions that bodes well for the country. Corporates are known for delivery and providing efficient services. There may soon come a time when companies too will begin to question the government's own efficiency and priorities. That time may indeed be already upon us.
Time to Pull up Socks: With Indian governance not up to scratch, it is time to ask if Indian parliamentarians are doodling at work. It is also time to question our leaders' priorities–welfare of the common man or an exclusive focus on Foreign Direct Investment, promoting business start-ups or promoting their own kith and kin in politics?
For a country with 1.2 billion people, social unrest or gross inequality does not bode well. Neither now nor later. It is up to the Indian government, and nobody else, to take stock of its policies and its poor.
Tags: BRICS, Drug trials, European crisis, eurozone, Governance in India, Illegal drug trials, India governance, Indian Politicians, Manmohan Singh, RTI, RTI activists, Sonia Gandhi, Western Ghats