Is the Ugandan government holding Sports back?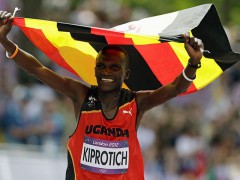 There is one name that is on everyone's lips today in Uganda. The man that redeemed Uganda from 40 year old no gold nightmare – Stephen Kiprotich. The 23 year old surged at 23 miles and led the pack of over 100 athletes that were taking part in the 42 mile marathon. For any Ugandan that was a beautiful sight to behold.
Within minutes a man that was not known even by the average Ugandan was a hero. Today's news dailies had headlines praising him with headlines like National Salvation. He got worldwide international recognition. From the Huffington Post, New York Times, ESPN, The Daily Telegraph and everyone had something to say about the gold medalist. Within minutes of his win of 2:08:01 he was trending on Twitter. He brought joy to so many hearts.
Uganda is undoubtedly a great country. It has amazing food, very hospitable people. But the caliber of its sports has been worrying even though it has great potential. During the 1970s Uganda was a sport hub. Not a force to reckon with, but yes, there was some pride in our sports.
We were at least guaranteed medals in boxing in the world championships and Olympics. Track and field was no different. Peter Rwamuhanda and John Akii Bua won Silver and Gold medals respectively. John Akii Bua went on to break and hold the world record. The cranes team which is Uganda's Football team then went all the way up to the finals of the Africa Nations cup, only to lose 1-2 to the host country – Ghana.
As John Kimbe, a Radio Presenter puts it: "The truth is the government today has never made a connect between sports and anything else. Sports are looked at as one of those leisure activities that people engage in to pass time or stay fit."
The government has failed to realize the tremendous tourism benefits that come from having a Ugandan win a gold medal at the Olympics and have everyone watching want to find out/visit that nation that's produced a gold medalist. Kenya doesn't have half the wildlife Uganda has but the number of tourists they get is triple ours.
When you mention Kenya people immediately think about long distance runners. Mention Uganda, if someone isn't old enough to remember Idi Amin, they'll be like "Uganda? Is that the latest android app.?"
Sports has been forgotten in this country. While we have seen the last two years bring unity in Ugandans as the Cranes Team battles to make The African Cup of Nations, people have thronged Namboole Stadium clad in yellow in support of the National Team. The latest was the Nations Cup Qualifier against Congo Brazzaville, where Uganda beat their opponents 4: 0 on 13th July 2012.
Albert Ahabwe a Radio Sports Journalist re-echoes the government's need to support Sports; be it Football, Rugby, athletics or Hockey:
"Little or no resources and planning are channeled into sports. The kind of people that are sent in to manage sports policy formulation, take charge of sports facilities and the little funds available for sports are manipulated. Facilities sold off or leased to events companies.  Little or no care is given to training grounds."
All the people that I have talked to agree to one thing: The government needs to inject serious funds in sports development.
And that is very true. The most successful nations in sports like United States of America, China and Australia have done this. Even the not – so rich ones like Kenya and Jamaica have gone to the young ones in schools and developed a strong youth sports curriculum. Stephen Kiprotich confesses to have done most of his training from Kenya, and that I believe is because of the readily available training facilities.
I think that it is high time that the government of Uganda gave people with a passion a reason to run and play other than the little girls.
Tags: Gold medal, Idi Amin, John Akii-Bua, Kenya, New York Times, Peter Rwamuhanda, Stephen Kiprotich, Uganda