Join Youth Time Global Forum in Indonesia!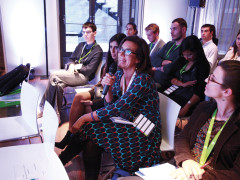 The Youth Global Forum is a unique event, which will gather together more than 150 participants from all over the world in Jakarta, Indonesia. The aim is to come up with the solutions for the most prevalent issues. The topic of the annually organized event is related to the location and the timeliness of the topic. This year, it is "The Interdependence Between Sustainability and Social Entrepreneurship – Creating a sustainable environment for social development through tech innovation." This forum will provide an interactive platform for young social innovators to openly communicate, share ideas and experiences with their peers from different cultural backgrounds and regions around the globe.
To all young ambitious and pro-active people: you are welcome to apply for the Youth Global Forum in Jakarta! Present your project and get a chance to win:
a grant
a scholarship in Europe or Asia
an internship in Indonesia
There are only 10 places left! Apply now. Deadline is Friday, October 28. Here you can find the application form.
The Event's website is: globalforum.youth-time.org.
Do not to miss the upcoming article about the Youth Global Forum in November.