Keep calm Brits, the Romanians are coming!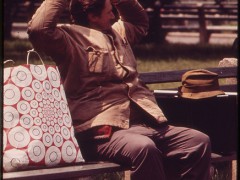 It's been seven years since Romania joined the European Union and even though this event sounded like arriving in the promised land, this wasn't quite the case. Great Britain didn't give work permits to Romanian citizens as the government  was afraid of what they called a potential … "invasion". We're no aliens, so many of us Romanians didn't quite understand the ban Westminster imposed on us. But now that the seven year restrictions are coming to an end, we realize that we were simply out of luck when the Brits decided to "punish" us for their failure to keep proper track of their immigrants.New Year's Eve is a moment of celebration! But the one coming up this year has a more special meaning for the Romanian people as we prepare ourselves to cross the boarders of Great Britain and finally work there free of any restrictions just like any other European citizen. But while we're happy about it, the Brits seem to be shivering in their boots. Why are they so scared?
Recently official migration figures missed out nearly 500,000 people who came to the UK after their countries joined the EU in 2004. Poland is the second highest immigrant population in UK after India. In 2004 Poland wasn't even in the top 60, but now there is a population of 503,000 Polish inhabitants in the UK. Under the Labour government, between 2002 and 2010 mass immigration peaked. Referring to the missed out figures, the Office for the National Statistics stated that, "At national level, the difference is believed to be largely due to international migration. In particular, an underestimate of the number of immigrants from the countries of Central and Eastern Europe that joined the EU in 2004."
There are around 80,000 Romanians living in UK at the moment. A BBC poll found out that more than 8% of Romanians consider migrating to Great Britain, while the Migration Watch think-tank estimates that some 50,000 Romanians and Bulgarians will arrive in their country every year for the next five years. However, a study by the National Institute for the Economic and Social Research says that Britain is unlikely to be the prefered destination for Romanians who are still much more interested in countries such as Spain, Italy and Germany.
When it comes to the quality of future Romanian inhabitants in the UK, the Brits should not at all worry. We simply plan to go there for a better living and not to scoop up "goodies" such as free public services. A NIESR (National Institute of Economic and Social Research) report states that those ready to cross British borders at the begining of 2014 appear to be unmarried professionals under the age of 35 whose interest in free handouts and healthcare benefits is low. This doesn't mean that we're not interested in living the good life, but our main reasons for coming to Great Britain are the career opportunities it offers and the chances for personal growth in our own fields of work.
So, Brits keep calm and think beyond the stereotypes! The new generation of qualified Romanian professionals will be arriving on your shores ready to give their very best. They're an asset, not a liability!