LESS IS POOR: austerity hurts children in the UK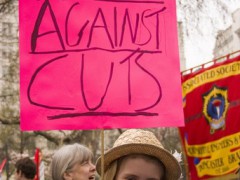 This summer the Brits couldn't stop discussing two children. In July both the United Kingdom and the world held their breath waiting for the birth of the son of Prince William and Kate Middleton. And in August the country was shocked at the revelation of Daniel Pelka's death, a four year old whose brutal systematic abuse lead to his demise. Both the royal baby and Daniel are rare and extreme examples of how children are treated in British society. In between them there are millions of children living in the UK who are at risk of poverty. Both Prince George and Daniel give us an incentive to discuss what is children's wellbeing in a country where austerity measures have been among the highest in OECD countries.
In my opinion there is nothing more ugly than a hungry or neglected child. However, much more upsetting is a poor child in a country where the majority of people uses iPhones, drink their Starbucks coffee daily and do their grocery shopping at Marks & Spencers. When I heard that about 27% British children live under the poverty line, I simply couldn't believe it. How on earth can this be possible in Britain which seems like a land of honey and milk with its almost free National Health Service, Oxbridge educational institutions and legendary welfare system?
The fact is that Britain is no longer a land of honey and milk. Since October 2010 the Conservative and Liberal Democrat coalition government has started to realize its plan of implementing a staggering £81bn cuts in public sector spending over four years, which involve £7bn extra welfare cuts, including changes to incapacity and  housing benefit as well as tax credits. Thanks to the current government society is facing an unprecedented level of cuts in spending by local authorities and other public sector bodies, which must have an effect on society as a whole. The impact made front page news: increasing student fees, stagnant wages, privatization of the National Health System and rising unemployment, underemployment and worsening living conditions and much more. But there is one more thing, which has just recently started to shine through in mainstream media – a troubling increase in child poverty.
The infographics below show statistics explaining the rising child poverty in England.

Child poverty will remain a blot on British society as long as inequalities are not eradicated.  Deep austerity measures will not help at all. If the present trend continues, the UK will once more turn into a stratified class society as it was in 19th century. In the end, who cares if the royal show goes on? Instead of taking heed of how austerity cripples children's lives, the British will merrily follow more entertaining news – Prince George's first bathtub pictures, his first walk and going to school. These are much more amusing than austerity.
Tags: child poverty, daniel pelka, government cuts, government spending, UK, western europe