Let it snow! Let it snow! Let it snow!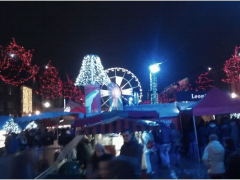 2 Dec 2012 Belgrade
It's Sunday. I've got message on WhatsApp from Nenad. Brussels first snow, he wrote. Then we chatted a bit. Look at Brussels last night was written under the photo he sent me. He knows how much I love Christmas markets. Last year he sent me a similar one from Bonn where he got Master of European Studies at University of Bonn's Center for European Integration Studies. Nenad was one of the best students of the Belgrade Faculty of Law and very successful in many extracurricular activities. He's now working as an intern in the European Parliament president's office until Februrary next year.
In Marburg the first snow falls, it's nice! Filipa put the status on Facebook in the afternoon. She likes summer more. This fall she started a Master's course in economics and institutions at Philipps University Marburg.  Filipa graduated from the CEU Business School in Global Management. From February to July she was an intern in my organization, proficient in accountancy and with a great sense of humor. We miss her often.
Tijana also informed us about the first snow of the season, but this time in Frankfurt.  She was one of the most talented students of international relations at Belgrade University's Faculty of Political Sciences. This is her third year in Germany. She worked as journalist and was an intern at Deutsche Welle for 6 months. Tijana is working for an MA in Peace and Conflict Research at the Johann Wolfgang Goethe University of Frankfurt am Main and holds a Friedrich Ebert Foundation scholarship.
Even Vanja posted a picture of snow, artificial snow of course, because he's in Guadalajara. He is MA in Investment Banking and this October transferred to the Mexican branch of a European Bank. For me it sounded like science fiction. A few days ago, Vanja told me how  shocked he is at the differences between business culture there and in Europe. He's on an indefinite assignment out there. He also bought some golf equipment today but that picture he showed  wasn't so interesting.
Still no snow in the UK, but Christmas fever has started there. Teodora loves to buy and make presents and wraps them most originally. She got her Masters in Management of Training and Development at the University of Edinburgh and worked there as a research assistant. It's her third Christmas in UK. Teodora now lives in London and works at British Petroleum as the Organizational Learning Coordinator.
Bane was tagged in a picture called the Yugosphere Society – Trinity Xmas Formal for the Day of (our former) Republic (Yugoslavia) with his colleagues from Croatia, Montenegro and Macedonia.  He's at University of Cambridge and having the time of his life there, so I've heard. He is a MPhil in Development , Society and Environment, and co-founder and program director of the non-governmental organization, the  Center for civil dialog and regional initiatives.
One more picture from abroad was uploaded in the afternoon. Ljubica graduated at University of Westminster today! Now she's got an MA in Communication. Ljubica was a very gifted student of the Faculty of Dramatic Arts in Belgrade at the radio and audio production department,
and one of the organizers of the Festival of the International Students Theatre. She likes winter and snowboarding.
In the evening I chatted with Katarina. She finally found time to read my blog post on nickel issue on the Future Challenges portal and she liked it. Katarina helped me to find nice pictures from Central Serbia where she was born and to pick one for the article. For couple of months she'll be in Brussels with her fiancé Filip who's working on his PhD. He already has a MPhil from Cambridge. The three of us have known each other since undergraduate days. These days Katarina is applying for a PhD course abroad. I told her that I knew it was snowing today in Brussels and that this had inspired me to write a new blog post.
3 Dec 2012 Belgrade 
I went to work. It's snowing in Belgrade for the first time this year, one day later than in Brussels. To catch up with Brussels though, we'll need much more than the weather.
Young people's qualifications do not match the needs of the labour market. National Employment Service using the nomenclature of occupations adopted in 1990. The Strategy of Education in Serbia 2020+ suggests that changes related to dovetailing the education system with labor market needs is to be adopted.
Before I sign off, I want to thank all my friends who allowed me to use their personal photos and stories for this blog post. I'm so proud of you people. Hope you all will make the brain drain work in reverse!
Tags: brain drain, educational reform, educational system, migration, Serbia, young leaders, young professionals, youth unemployment