Let's focus on the things that unite us, not the things that divide us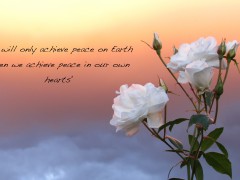 Photo by A. Ricardi
As a daughter of Polish migrants to Australia, I have always been aware of sources of tension and division within our community, be they ethnicity, religion, social status and so forth. We proclaim to be multicultural – which for me is a source of both pride and shame. Pride, as demonstrated by policies and initiatives to uphold and celebrate multiculturalism. Shame, in light of asylum seeker policy and the ongoing disadvantage faced by our indigenous communities. Recently, riots in Sydney organised by some members of the Muslim community in response to an anti-Muslim video sparked tensions that boil beneath the surface of an otherwise seemingly peaceful society. The Muslims I know personally are all peace loving, but it seems that a small number of religious fundamentalists always succeed in sowing the bitter seed of hatred within the wider community. Moreover, these problems appear to be deeply ingrained in the history of humanity, tracing back to the Cronulla riots, September 11, and historical tensions in the Middle East. As asked so pertinently, can religious and cultural differences ever be overcome? Will we ever achieve peace?
One of my favourite quotes is "Fear is a lack of knowledge." If people were to truly get to know the "other," whether they be Muslim, asylum seekers, or otherwise, they would realise that in most cases there is nothing to be afraid of, and that there is a lot more that unites us than divides us (as regards fundamental religious differences, we may just need to agree to disagree – but always with respect). We all share a fundamental humanity and the vast majority of us all aim for the same thing: quality of life, peace and happiness. One initiative that brings together diverse religious groups in Sydney is Our Big Kitchen. Recently, the community kitchen brought together 60 Jewish and Muslim children to cook side by side, providing an opportunity for the two communities to get to know each other in a peaceful and supportive environment. Another initiative promoting interfaith dialogue and cooperation is the Multi-Faith Centre at Griffith University in Brisbane.
Initiatives such as these demonstrate how by putting our differences aside, we can focus on the things that unite us rather than those that divide us. I was greatly encouraged to hear respected Muslim leaders in Sydney condemning the recent violence. Billionaire businessman Frank Lowy, originally from Czechoslovakia, has since referred to Australian multiculturalism as a "triumph in tolerance." Nonetheless, I believe we need more than just "tolerance" if we are to achieve long-lasting peace in our communities. Disadvantage and oppression must also be addressed if we are to achieve a "level playing field" where differing social and cultural groups can come together as equals. Diversity enriches all of us and we should each seek to cultivate and celebrate the "beautiful" aspects of our cultures.
When it comes to interpersonal relationships, however, it seems that even in the most affluent or egalitarian families, communities, and nations, there will always be conflict. Throughout my high school years and early university I was an idealist and naively thought the solution to all the world's problems was to tell people to love each other. But as I have gotten "older and wiser" I have come to realise it is not that easy, and that it is part of human nature to be sinful, whether it be it self-interest, greed, pride, envy, and so forth – many of which are promoted as virtues by popular culture. If it was up to human nature, I would not be very hopeful as to the future of humanity. As a Christian, however, I believe that God (a God of infinite love and tender mercy) is able to transform our hearts to allow us to forgive others – especially those who offend us – and love them unconditionally, in spite of our differences. For as another saying goes, we will only achieve peace in the world when we achieve peace in our own hearts.
I have expressed these ideas in a poem I wrote some time ago:
We look out at the world
With eyes that judge people by the clothes that they wear
With ears that judge people by the accents in their voices
And with hands that seek to control and possess.
But eyes and ears and hands are all confined to the realm of our bodies,
Which will dissolve into the Earth, with time.
If we were all blind or deaf or disabled
Perhaps would we realise,
That within each body there lies a human being created in the image of God,
Worthy and capable of love.
If we could all learn to see each other through eyes of humility and compassion,
Could we finally hold hands as brother and sister
And achieve the peace and belonging we all so dearly long for.
Tags: inter-faith dialogue, multiculturalism, peace & conflict, Sydney riots