Let's Revisit Peace in Cambodia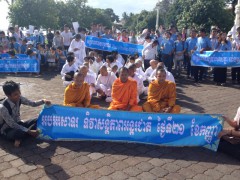 The world once more celebrated the United Nations International Day of Peace, marked as every year on 21st Sept. Yet the world is far from peace as civil wars, religious conflicts, growing insurgencies and the economic downturn bring ever more hardship to people in many countries. And Cambodia is no exception.
Cambodia claims to be a peaceful state, having recovered from a series of civil wars that included horrendous acts of genocide. However, there should be a clear consensus on how the country defines peace. Peace should not be described as merely the absence of war or violence – which is "negative peace." It should also include communal harmony, socio-economic cooperation and equal political representation in government for all citizens. These qualities, along with good governance which respects the rights of the people, constitute the positive side of peace –  or rather peace building.
Yet even when we say "absence of violence," we must first examine what violence is. While war is direct and visible violence, there is also a kind of "structural violence", the result of bad and harmful state policies with long-term negative effects on people such as hunger and poverty, which not only hurt people and put their lives at risk but also cause economic growth and development to stagnate.
If we look at current trends in Cambodia, we can see that while negative peace has been attained, positive peace is in jeopardy. While there has been slight economic growth, more than 30 percent of the population is still living in poverty. What's more, due to corruption and continual human rights violations, especially forced evictions and land grabbing under so-called development claims – there is little hope of Cambodia moving out of poverty.
In its current pursuit of development, the government of Cambodia has abused and violated people's rights to housing and development and other fundamental rights including the right to freedom of expression and assembly. Without listing past high-profile violations, while writing this article, I was told that peace practitioners consisting of roughly 1,850 participants from Phnom Penh and seven provinces had been banned from holding their planned celebration of International Peace Day on 21 September in Phnom Penh and 7 provinces. The group later obtained official notification of the ban which did not state any reasons on why it was imposed. However, the group still proceeded, and fortunately the event was not stopped by local authorities even though such  a ban made the event "illegal".
The corrupt  judicial system and the state as the main violator of the law  have rendered poor communities voiceless and powerless. At the same time, freedom of expression – a fundamental right – has also been abused by the government which applies various ill-defined laws with the help of the judiciary, using them as  political tools to control and silence critics. It is not surprising that the government has recently filed a flurry of lawsuits against political activists, journalists and human rights defenders.
Among recent cases of numerous prominent human rights advocates who have been targeted, arrested and charged, and also trade unions which have been targeted, is the case of Rong Chhun, President of the Cambodian Confederation of Unions and a prominent advocate of labour rights who  was summoned by the court for alleged incitment of factory workers to illegal protests and for  "public defamation". Another is the case of  Sia Phearum, the Secretariat Director of the Housing Rights Task Force who was cautioned by a government affiliated youth organization after he gave an interview with an independent radio station on the government's land policy. Yet another one concerns  Chan Soveth, a staffer to the Cambodian Human Rights and Development Association (ADHOC), was summoned to answer charges that he illegally aided a resident of a Kratie Village which was brutally raided by armed government forces in May this year. A 14-year old girl was killed in the operation which the authorities assert was mounted because villagers were planning to break away from Cambodia and create their own state. This same allegation of insurrection has now brought against a prominent  70 year old media owner and courageous freedom advocate, Mam Sonando, who was sentenced to 20 years in prison although not a shred of evidence submitted in court could prove any connection between him and the charge. 
The targets include not just prominent activists but anti-eviction community representatives and anti-logging community activists as well. Unfortunately, the latest killing of a journalist – the eleventh journalist to be murdered so far – has also highlighted the further risks faced by journalists and human rights activists in pressing public interest issues.
Systematic structural violence has not yet affected peace in Cambodia, but it will do soon if the government does not immediately undertake and implement reforms. There are fears, for instance, that ongoing land grabbing and evictions by the government could lead to a peasant revolution. This would then revive the cycle of bitter agrarian revolt that brought past political regimes like Pol Pot's Khmer Rouge to power.
The government must commit not only to maintaining negative peace (the absence of war and violence), but to building positive peace in order to attain social harmony. Lack of economic opportunities and security threats could once again affect the demographics of the region. Accordingly, it is also incumbent on the signatory states to the Paris Peace Agreement to bring about more respect of human rights and social development in Cambodia to contribute to harmony and peace in the region.
Tags: Cambodia, evictions, human rights, International Peace Day, Paris Peace Agreement, peace