Lost in Conversation: the Failed Dialogue between Bulgarian universities and employers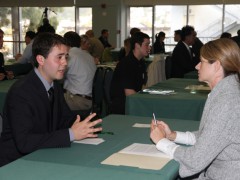 "How many master's degrees do you have?," the head of a recruiting agency asked me nonchalantly when I asked his opinion on a story I was writing. "Just one. Why?" "'Cause all of you now have at least two. Not that it matters…" "Why not?" "Firstly, because the labor market in Bulgaria is frozen. Secondly, what employers are looking for is training and experience, not diplomas."
Indeed, a recent survey, co-financed by the Social Fund of the European Union showed that only 1/5 of the students who have graduated in Bulgaria get jobs related to their fields of study. Not surprisingly, number one for graduate' performance on the labor market is the American University in Bulgaria, an American liberal arts institution featuring almost entirely foreign professors. In marked contrast, employers do not associate the diplomas issued by Bulgarian universities with any kind of prestige. In recruitment they very often don't even bother to look where the diplomas come from because diplomas give no indication of a candidate's training or suitability for the job. All this kind of stultifies Bulgarian higher education, doesn't it?
The reason may very well be that universities in fact have lost all connection with real-life business. Very rarely indeed do academic lectures reflect the needs or achievements of present-day business. Students are concentrated in a handful of specialties that are not in demand; foreign language education is weak and material equipment as outdated as the teaching system itself.  This is why recruiters say that graduate students are not fit for the labor market. The majority of them need additional training – additional investment that more often than not has to be made by the employers.
Strengthening the bonds between higher education and the labour market was an objective during Bulgaria's pre-accession process which has yet to met  seven years into EU membership. Both sides – universities and businesses – blame each other for the failure of the conversation between them.
Professors complain that companies are not interested in commissioning scientific research  or training courses from universities while employers say they attempt to work with universities not just to train students but to introduce the latest trends into academic curriculum. Roman Vasilev, head of JohnsonControls, a company that produces automotive electronics, says his firm has equipped labs at three Bulgarian universities in Sofia, Varna and Ruse so that students can try out the latest technologies currently absent from the universities' curricula.
Even though there may be good examples, they seem to be too isolated to have any influence on the bigger picture. As long as universities remain unresponsive to the demands of business, and business fails to speak the language of old universities and cooperate with them on a bigger scale, the Bulgarian higher education is doomed to decline and fall behind real life.
Tags: Bulgaria, Central and Eastern Europe, education, labour market, PPP, Public Private Partnerships, unemployment, university, youth unemployment