MH 17 belongings will be passed to Russian terrorist fund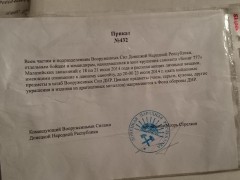 As inspired and supported by Russia war in the eastern Ukraine is going on, the world sees more and more shameful evidences of local terrorists activity.
This is order N242 from "minister of defence of Donetsk People Republic (DNR)" Russian colonel and FSB agent Ihor "Strelkov" Hirkin (more about the Russian terrorist from Moscow you can find here). It says: "All the units and subdivisions of Donetsk People Republic military forces, soldiers and commanders, which were at the Malaysian airlines "Boing 777″ aircraft crash zone from 18 till 21 July 2014 and having personal belongings from that aircraft, shall pass all the objects they found to Donetsk People Republic military forces headquarter. Valuable things (clocks, earings, pendants and other products from precious metals) will be sent to Donetsk People Republic defense foundation". Of course, nobody can affirm authenticity of the document, because there is no official and recognized Donetsk People Republic and every document it issues can be equally fake and real. For example The Wire writes about the document as "a written order allegedly sent by rebel leader Igor Girkin".  But what we know for sure is that pro-Russian and Russian terrorists are involved in stealing of MH17 personal belongings.
From the first day of Malaysian MH 17 crash locals and commandos of so called DNR looted dead bodies trying to find something useful. "The Wire" informs about disgusting details of the looting in its article "Looters Stole Cash, Credit Cards, and Jewelry from Flight MH17 Crash Victims". No wonder, theft and marauding are main signs of terrorists and Russian mercenaries at the eastern Ukraine. Everybody in Ukraine knows that they easely take away personal cars. Here you can see a video filmed by a citizen of Luhansk (a city in Eastern Ukraine occupied by terrorists). The video is about terrorists confiscating a car from a guy. The author commented: "They took a person, pressed him, just took him, said that somebody was shooting from his car. For no reason at all. I did not see the whole picture, but they took his car and left, probably with him". As local police says, just in one day on May 28th terrorists took away at least 14 cars in such a way.  On July 18th terrorists broke into "Médecins Sans Frontières" (MSF) Donetsk office and stole three cars with the organization logo.  It is especially dangerous because earlier terrorists in Donbas used ambulance cars to transport fighters to terrorist acts, as well as for transportation of arms and ammunition. They did it absolutely in the same way like Hamas terrorists with Palestinian Red Crescent ambulances. Russian and pro-Russian commandos mostly tend to take away property threatening with weapons and local residents are  marauding devastated areas. Here you can see a detailed report with photos and videos about how they did it in Donetsk "Metro" supermarket. In that case locals were not aside too. All the Ukrainian internet was shocked by a girl from Torez (a town next to MH17 crash spot) excess. She looted cosmetics from dead bodies and boasted with it in her social network account.
But the above-mentioned document is something special. Russian curator of terrorists calls to pass stolen belongings to special fund for terrorism sponsorship. For that money Hirkin and Co will be able to purchase more weapons to produce even more mess in eastern Ukraine.
As we live in a globalized world and everything is connected, in the meantime France is reflecting whether it should sell Russia two warships "Mistral". The question is so concerning that even Vladimir Putin talks about it. "President Vladimir Putin accused the U.S. of seeking to blackmail France into scrapping a contract to sell "Mistral" warships to Russia by offering to cut a record $8.97 billion fine against BNP Paribas SA. (BNP)", Bloomberg.com says.
"We know about the pressure which our U.S. partners are applying on France not to supply the Mistrals to Russia," Putin told Russian diplomats in Moscow today. "And we even know they hinted that if the French don't deliver the Mistrals, they would quietly get rid of the sanctions against the bank, or at least minimize them," he said without naming BNP Paribas.
"What is that if not blackmail?" Putin said.
And when we see Russian rocket launchers in Ukraine we would like to ask: "What is that if not war?" When we see crashed MH17 and helpless lie of Russian representatives we ask "What is that if not terrorism?" And when we learn about France wanting to sell warships to Russia we ask: "What is that if not suicide?"
The Mistral deal calls in memory an old joke. Nouveau riche dies and gets to heaven. They say him there: "You shall go to hell because of your sins". Nouveau riche resents: "How can it be? I donated a lot of money to church!" And they answer: "Don't worry! We'll give your money back!"
Tags: aircraft crash, France, Malaysian airlines, MH17, Mistral, Russia, terrorist attacks, ukraine, Vladimir Putin